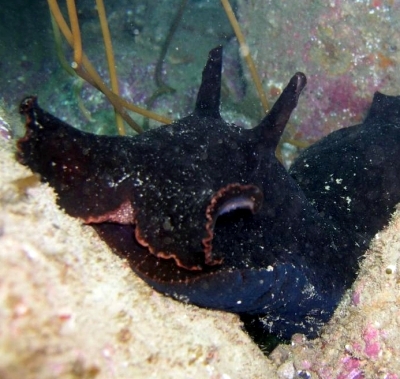 Aplysia vaccaria
Winkler, 1955
Order: ANASPIDEA
Superfamily: APLYSIOIDEA
Family: Aplysiidae

DISTRIBUTION
Morro Bay, California to Gulf of California.
PHOTO
Santa Catalina Island, 50 feet, California, USA, Pacific Ocean, 23 July 2006, Kelp Forest. Length: 60 - 70 cm. Photographer: Amber Purohit.
'Uniform dark brown to black body, sometimes with fine grey or white markings. feeds primarily on brown algae Egregia. The world's largest gastropod, it reaches 99cm in length and can weigh nearly 14kgs.' ... Behrens, D.W. (1981) Pacific Coast Nudibranchs.
Differs from other southern Californian species, Aplysia californica, in not producing purple ink (see Ron Velarde's message).
Winkler, L.R. (1955) A new species of Aplysia on the southern California coast. Bull. South. Calif. Acad. Sci. 54 (1): 5-7.

Winkler, L. R. & Dawson, E.Y. (1963) Observations and experiments on the food habits of California sea hares of the genus Aplysia. Pacific Science, 17 (1): 102-105.