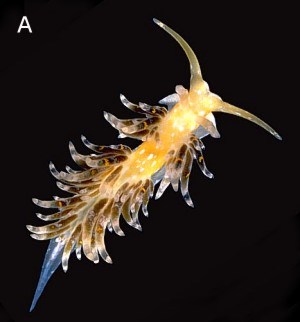 Austraeolis ornata
(Angas, 1864)
Order: NUDIBRANCHIA
Suborder: AEOLIDINA
Family: Glaucidae

DISTRIBUTION
southern Australia
PHOTO
A, Roches' Beach, Hobart, Sthn Tasmania, Feb 1984, intertidal, 12mm long.
B, Mouth of Don River, Devonport, Nthn Tasmania, Feb 1984, 7m, 18mm long. C, Gleason's Landing, Yorke Peninsula, South Australia, Feb 1985, intertidal, 23mm long.
D, E, Five Dock Point, Drummoyne, Sydney Harbour, July 1982, intertidal, 56mm long. PHOTOS: Bill Rudman.
This is probably the most common intertidal and shallow sublittoral aeolid in southern Australian waters. It grows at least to 60mm in length and ranges in colour from a pale translucent yellow to an intense bright orange. There are usually white patches and posts on the body often bluish or iridescent. The rhinophores has some prominent folds or ridges and are usually tipped with white. The ceratal digestive gland ranges in colour from a pale yellow to a dark brown. In smaller cerata, especially on smaller animals, there is a brilliant colour pattern on the ceratal wall consisting of a complete white subapical band and a bright yellow band which is only on the outer face of the ceras. There can also be a similar half-band of turquoise specks above and beow the yellow band, and scattered all over the cerata are iridescent blusih white specks. Often hovere, especially in larger animals these colours are lost except in the smallest cerata. The photos on this page illustrate these colour variations.
Despite being common, little is known about its biology except that it has small white eggs from which planktotrophic larvae hatch. As a glaucid we might assume that it feeds on hydroids but I have never actually found it on hydroids and captive animals are quite voracious feeders on carrion, other aeolids etc, suggesting a feeding behaviour similar to that reported for Hermissenda crassicornis. I have found it feeding on live Aeolidiella foulisi at least three times including the 56mm animal [PHOTO D] eating a 21mm long Aeolidiella. Ian Loch watched one in an aquarium attacking a jelly fish. Ian Anderson [see messages below] reports it feeding on the anemone Aiptasia.
When disturbed, larger animals in particular, will bristle their cerata, and shake them about.
Reference:
• Angas, G.F. (1864) Description d'espèces nouvelles appartenant à plusieurs genres de Mollusques Nudibranches des environs de Port-Jackson (Nouvelles-Galles du Sud), accompagnée de dessins faits d'après nature. Journal de Conchyliologie, 12: 43-70.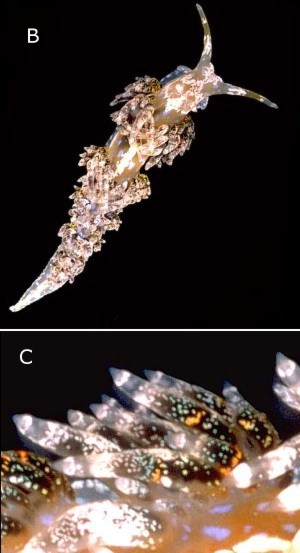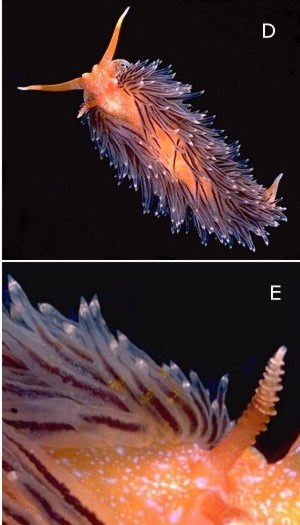 Authorship details
Rudman, W.B., 2000 (June 8)
Austraeolis ornata
(Angas, 1864).
[In] Sea Slug Forum.
Australian Museum, Sydney. Available from http://www.seaslugforum.net/factsheet/austorna