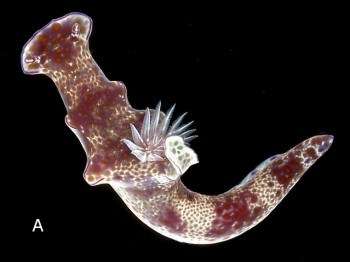 Ceratosoma tenue
Abraham, 1876
Order: NUDIBRANCHIA
Suborder: DORIDINA
Superfamily: EUDORIDOIDEA
Family: Chromodorididae

DISTRIBUTION
Tropical Indo-West Pacific.
PHOTO
A,B. Baie de Koumac, Koumac Region, New Caledonia, 3 m, sandy mud, Caulerpa beds, October 1993, A, 63mm, B, 150mm long alive.
C. juvenile, 20mm long, Coffs Harbour region, northern New South Wales, Australia, December 1990. D. Cymodocea grass beds, Dar es Salaam, Tanzania, February 1974, 68mm long animal with dorsal horn bitten? off. PHOTOS: Bill Rudman.
The two common tropical species of Ceratosoma, C. tenue and C. trilobatum (Gray), are variable in colour, and as both can have very similar colour patterns, considerable confusion has occurred in the past over the identity of specimens. Ceratosoma tenue can be characterised by the three mantle lobes on each side of the body. There is a large anterior lobe on either side of the head and a large lobe on each side by the gills. Between these is a smaller lobe which is joined by a ridge to the gill lobe, but not the head lobe. The edge of the lobes and the ridge joining the posterior lobes is usually outlined with a broken purple line. There is usually no broken purple line between the head lobe and the posterior lobes. Colour variation is very similar to that of C. trilobatum. It does appear that the purple border to the mantle and foot in C. tenue is always a dotted line whereas in C. trilobatum it is usually an unbroken line. Although this species can grow to more than 120mm in length, it is relatively smaller and more elongate than C. trilobatum.
Most species of Ceratosoma have a long recurved dorsal 'horn' which acts as a defensive lure attracting potential predators to the part of the animal which contains most of the distasteful chemicals stored from their food. See Ceratosoma brevicaudatum for photos of its conspicuously marked 'tail', especially in juveniles. This colour 'target' probably also attracts potential predators to the most distasteful part of the animal. See photo below (D) of Ceratosoma tenue from Dar es Salaam, in which whole dorsal horn has been cut off, probably bitten off. although not visible in the photo the animal had a distinct white amputation scar.
References:
•Rudman, W.B. (1984) The Chromodorididae (Opisthobranchia: Mollusca) of the Indo-West Pacific: a review of the genera. Zoological Journal of the Linnean Society 81: 115-273.
•Rudman, W.B. (1988b) The Chromodorididae (Opisthobranchia: Mollusca) of the Indo-West Pacific: the genus Ceratosoma J.E. Gray. Zoological Journal of the Linnean Society 93(2): 133-185.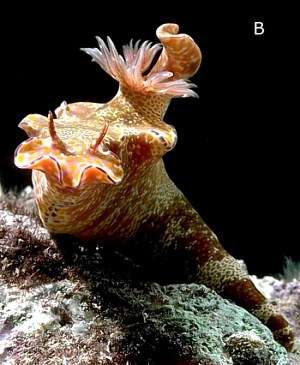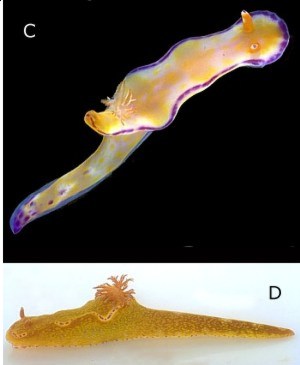 Authorship details
Rudman, W.B., 1999 (September 29)
Ceratosoma tenue
Abraham, 1876.
[In] Sea Slug Forum.
Australian Museum, Sydney. Available from http://www.seaslugforum.net/factsheet/ceratenu