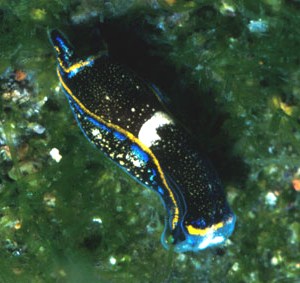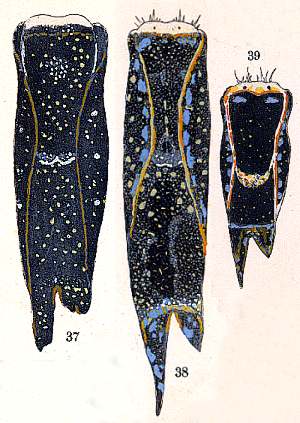 Chelidonura africana
Pruvot-Fol, 1953
Order: CEPHALASPIDEA
Superfamily: PHILINOIDEA
Family: Aglajidae

DISTRIBUTION
Azores, Morocco, western Mediterranean, [Italy, Spain]. It is also suggested on the Forum that this species has a Caribbean population as well.
PHOTO
Upper: São Miguel, Azores. July 1988. Photo: T.M. Gosliner
Lower: 3 specimens from Morocco. Plate 3, figs 37-39 - from Pruvot-Fol 1953.
The animal is black with scattered white flecks. There is usually a white band across the front of the head shield and another on its posterior edge, but in some cases one or both of these white bands can be reduced or absent. There is also an orange or yellow line across the head, behind the white band, and another orange-yellow line edging the parapodia and caudal processes. There are bright blue spots associated with the ornage line. On the head, there can be two blue patches just behind the transverse orange line, and on the parapodia there can be a row of blue spots forming a submarginal line below the orange border. On the caudal lobes ['tails'] large bkue spots can be present.
Some earlier authors have considered that Pruvot-Fol's 3 illustrations may represent 2 or 3 distinct species but that seems unlikely. The variation in colour pattern does not seem excessive when compared with other species in the family. Garacia & Garcia (1984) describe the species form the Strait of Gibraltar and consider C. italica Sordi 1980, from the Tyrrhenian Sea, Italy to be a synonym.
Note added 6 January 2004: As I discuss in a separate message, the Caribbean C. berolina is almost certainly a synonym of C. africana.
Note added 31 August 2007: As I discuss in a separate message, the Caribbean C. cubana is another possible synonym of C. africana.
References:
• Yonow, N. (1994). A new species and a new record of Chelidonura from the Red Sea (Cephalaspidea: Aglajidae), Journal Conch. London, 35: 141-147
• Garcia, J.C. & Garcia, F.J. (1984). Sobre la presencia de Chelidonura africana Pruvot-Fol Mollusca: Opisthobranchia) en el litoral Iberico. Boll. Malacol., Milano, 20 (1-4): 77-82
• Gosliner, T.M. (1980). Systematics and phylogeny of the Aglajidae (Mollusca: Opisthobranchia). Zool. J. Linn. Soc. London, 68: 325-360
• Marcus, E. (1976). Marine euthyneuran gastropods from Brazil (3). Studies on Neotropical Fauna and Environment, 11: 5-23
• Martinez, E., Ballesteros, M., Avila, C., Dantart, L. & Cimino, G. (1993) The family Aglajidae (Opisthobranchia: Cephalaspidea) in the Iberian Peninsula. Iberus, 11(1): 15-29.
• Martinez, E., Malaquias, M.A.E. & Cervera, J.L. (2002). Chelidonura africana Pruvot-Fol, 1953 (MOLLUSCA, GASTROPODA): proposed designation of a neotype. Journal of Conchology, 37(4): 349-354.
• Pruvot-Fol, A. (1953) Etude de quelques opisthobranches de la cote Atlantique du Maroc et du Senegal. Travaux de l'Institute Scientifique Cherifien, Zoologie, 5: 1-105. (Pls.1-3)
• Rudman, W.B. (1974). A comparison of Chelidonura, Navanax, and Aglaja with other genera of the Agaljidae. (Opisthobranchia: Gastropoda). Zool. J. Linn. Soc. London, 54: 185-212
• Sordi, M. (1980). Una nuova specie di Aglajidae (Gasrtopoda: Opisthobranchia) vivente nel mar Tirreno: Chelidonura italica Sordi. Atti Soc. tosc. Sci. nat. Mem Seria B, 87: 285-297
Authorship details
Rudman, W.B., 2003 (May 15)
Chelidonura africana
Pruvot-Fol, 1953.
[In] Sea Slug Forum.
Australian Museum, Sydney. Available from http://www.seaslugforum.net/factsheet/chelafri