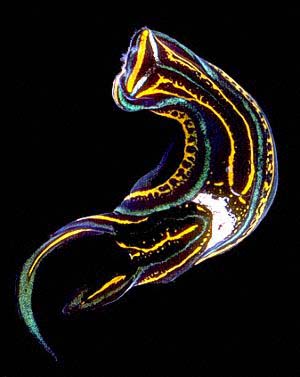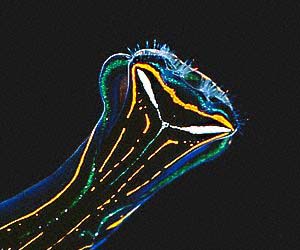 Chelidonura hirundinina
(Quoy & Gaimard, 1832)
Order: CEPHALASPIDEA
Family: Aglajidae

DISTRIBUTION
Tropical Indo-West Pacific, Caribbean.
PHOTO
Lower photo showing the prominent sensory bristles around the mouth. Animal 25mm long alive.
Long Reef, Sydney, New South Wales, Australia. PHOTOS: John Fields.
Species of Chelidonura are characterised by the pair of tapering "tails", (the genus name referring to the chela-like tails), and the mounds of sensory bristles on either side of the mouth. Sensory bristles are present in all aglajids, but they are most prominent in Chelidonura. Until a few weeks ago the food of Chelidonura was a mystery but thanks to participants to the Slug Forum we now know they feed on flatworms. (See correspondence on the Chelidonura varians page. While some species of Chelidonura seldom grow larger than 10mm, other species reach up to 90mm. Chelidonura hirundinina usually does not exceed 40mm, but is often much smaller.
A very similarly coloured species, Chelidonura philinopsis, may be just a colour form.
References:
• Redfern. C., 2001 Bahamian Seashells: a Thousand Species from Abaco, Bahamas.
• Rudman,W.B., 1974. A comparison of Chelidonura, Navanax and Aglaja with other genera of the Aglajidae. Zoological Journal of the Linnean Society, 54: 185-212.
• Rudman,W.B. 1973. On some species of Chelidonura (Opisthobranchia: Aglajidae) from Zanzibar and Fiji. Zoological Journal of the Linnean Society, 52: 201-215.
• Thompson, T.E. (1977) Jamaican opisthobranch molluscs I. Journal of Molluscan Studies, 43(2): 93-139, pls.1-3.
Authorship details
Rudman, W.B., 1998 (October 14)
Chelidonura hirundinina
(Quoy & Gaimard, 1832).
[In] Sea Slug Forum.
Australian Museum, Sydney. Available from http://www.seaslugforum.net/factsheet/chelhiru