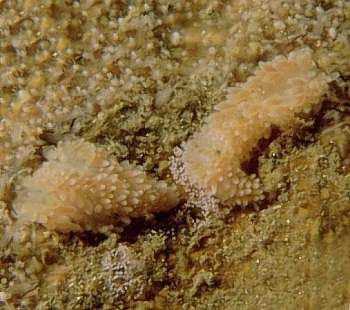 Cuthona nana
(Alder & Hancock, 1842)
Order: NUDIBRANCHIA
Suborder: AEOLIDINA
Family: Tergipedidae

DISTRIBUTION
North Atlantic, as far south in Europe as France, & New Hampshire in North America. Very similar species Cuthona divae (Marcus, 1961) in northeast Pacific.
PHOTO
In hydroid colony, note egg masses. Plompe toren, de Oosterschelde, the Netherlands. PHOTO: Peter H. van Bragt
Grows to about 30mm. It feeds predominately on the hydroid Hydractinia echinata, which is often, but not exclusively, found attached to shells inhabited by hermit crabs.
Reference:
• Thompson, T.E. & Brown, G.H. (1984) Biology of Opisthobranch Molluscs, Vol 2. Ray Society: London.