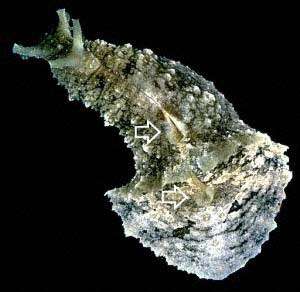 Dolabella auricularia
(Lightfoot, 1786)
Order: ANASPIDEA
Superfamily: APLYSIOIDEA
Family: Aplysiidae

PHOTO
UPPER RIGHT: Touaourou, S of Yaté, New Caledonia, October 1988, in seagrass beds, juvenile, 40mm long extended. Arrows showing position of inhalant (upper) and exhalant (lower) siphons into mantle cavity.
LOWER LEFT: Koumac, New Caledonia, 12m, silty bottom with dense gorgonian beds, October 1993, 124mm long alive.
LOWER RIGHT: Koumac, 1m, in seagrass beds, New Caledonia, October 1993, 105mm long alive.
PHOTOS: Bill Rudman.
Dolabella auricularia is a Sea Hare with a rather different shape than species of Aplysia. In Dolabella the back, or posterior end of the body is a sloping disc-like shield, with papillae around the edge and one large exhalant siphon in the middle. Buried in the tissue of this "back shield" is a large flattened, quite heavily calcified shell. In the midline, in front of the shield is a smaller groove which houses the inhalant siphon which draws water in to the almost totally enclosed mantle cavity. In the top photo the arrows show the locality of these two siphons.
Dolabella is quite variable in colour but it is always mottled shades of green and brown which make it extremely well camouflaged in nature. It is normally found in sheltered bays or lagoons, in grass beds or on sand or mud. It can also be found in large intertidal rockpools. Sometimes the only way you know it around is when you stand on it and it releases the tell-tale reddish purple aplysiid "ink". It feeds on a variety of brown green and red macroalgae and Pennings et al (1993) suggest that Dolabella actively maintains a mixed diet in preference to feeding on a single species of algae.
I have listed some references on various aspects of the biology, physiology and natural history of Dolabella separately.
See Dolabella auricularia shell page.
Compare with Dolabella gigas.
See Sea Hare shell page.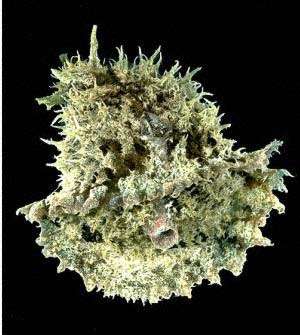 Authorship details
Rudman, W.B., 1999 (April 1)
Dolabella auricularia
(Lightfoot, 1786).
[In] Sea Slug Forum.
Australian Museum, Sydney. Available from http://www.seaslugforum.net/factsheet/dolaauri