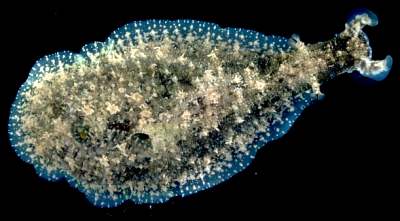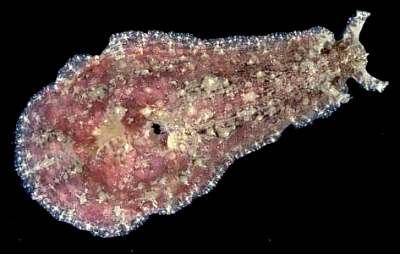 Dolabrifera dolabrifera
(Rang, 1828)
Order: ANASPIDEA
Family: Aplysiidae

DISTRIBUTION
Found circum-globally in warm tropical and sub-tropical waters.
PHOTO
Upper: North Coast of New South Wales, March, 1982. 34cm - semi-extended. AM C132999
Lower row: Koumac, New Caledonia, October, 1993. 38mm long. AM C200686. PHOTOS: Bill Rudman.
Dolabrifera dolabrifera is a relatively small flattened Sea Hare which grows to approx 10 cm in length. It is usually a mottled green or light brown but ranges in colour from pink to dark brown. The posterior half of the animal is usually broad and rounded gradually narrowing anteriorly to the head. The parapodia are fused except for a short region in the posterior midline, where two small flaps form and an inhalent and exhalent opening into the parapodial chamber which enloses the redued mantle cavity and shell. Although often described as smooth, it would seem that this species is covered in lower tubercles which bear retractile single or compound papillae. In preserved animals these papillae are seldom described presumably because they are retracted during preservation.
Note added 22 April 2010: The name Aplysia dolabrifera has usually been attributed to Cuvier, 1817 but that is a nomen nudum. It should be attributed to Rang, 1828. See discussion in message #23539.

See leech-like crawling
See egg ribbon & mating
See Dolabrifera brazieri page.
See Sea Hare shell page.
Reference:
• Bebbington, A. (1974) Aplysiid species from East Africa with notes on the Indian Ocean Aplysiomorpha (Gastropoda: Opisthobranchia). Zoological Journal of the Linnean Society, 54: 63-99.
• Bebbington, A (1977) Aplysiid species from Eastern Australia with notes on the Pacific Ocean Aplysiomorpha (Gastropoda: Opisthobranchia). Transactions of the Zoological Society of London, 34: 87-147.
• Cuvier, G.L. (1817) La Règne Animal. Vol. 2. (Gasteropodes), Vol. 4..
• Marcus, Ev. (1972) On the Anaspidea (Gastropoda: Opisthobranchia) of the warm waters of the western Atlantic. Bulletin of Marine Science, 22(4): 841-874.
• Ortea, J.A. & Martinez, E. (1991) El Orden Anaspidea (Mollusca: Opisthobranchia) en las Islas Canarias. Revista de la Academia Canaria de Ciencias, 3(4): 87-107.
Authorship details
Rudman, W.B., 2003 (April 26)
Dolabrifera dolabrifera
(Rang, 1828).
[In] Sea Slug Forum.
Australian Museum, Sydney. Available from http://www.seaslugforum.net/factsheet/doladola