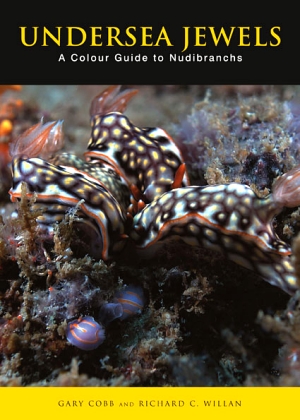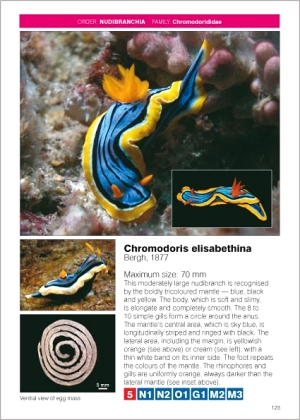 Undersea Jewels - A colour guide to Nudibranchs
G.Cobb & R.C.Willan
Published: 2006
Australian Biological Resources Study, Canberra
ISBN-10: 0 858 81147 2
ISBN-13: 978 0 85881 147 8
Size: 250 × 150 mm (A5),  312 pages
Binding: soft cover, section stitched
Illustrations: full colour throughout
Price: $Aust. 60.00
This book records the endeavours of Gary Cobb in studying the sea slugs of southern Queensland in the three years from 2003. Gary has been a regular contributor to the Forum over that time, and those of you familiar with his contributions will not be surprised at the high quality of the photographs which grace this book. Richard Willan has researched these fascinating animals for many years, and between them, the authors have produced a valuable record of the fauna of this relatively small part of the eastern Australian coastline. That their book includes nearly 300 species from such a small area is an interesting point in itself, illustrating just how diverse the opisthobranch fauna can be in the tropical and subtropical waters of the Indo-West Pacific. I am sure many of these species do not have resident populations in southern Queensland - but we can be sure that if they disappear for a while they will return, sometime in the future, when suitable water currents wash their free-swimming larvae down to the Sunshine Coast and they find suitable food, to settle down and grow to maturity.
This book is well designed, with one species per page, with one large photo and two smaller photos to show colour variations or egg mass etc. The text accompanying each species describes the external features.

This is a book for anyone interested in sea slug diversity. Apart from a few eastern Australian endemic species, such as Rostanga arbutus, the species in this book could have been found in New Caledonia, Fiji or Indonesia and so it is certainly a must for anyone interested in the fauna of the Indo-west Pacific. Gary Cobb shows in this book that it is probably just as productive in tropical waters to study your backyard regularly, as it is to chase all over the Indo-West Pacific in search of something 'new'. 
Authorship details
Rudman, W.B., 2006 (December 8)
Undersea Jewels - A colour guide to Nudibranchs
. G.Cobb & R.C.Willan.
[In] Sea Slug Forum.
Australian Museum, Sydney. Available from http://www.seaslugforum.net/factsheet/brcobbwillan