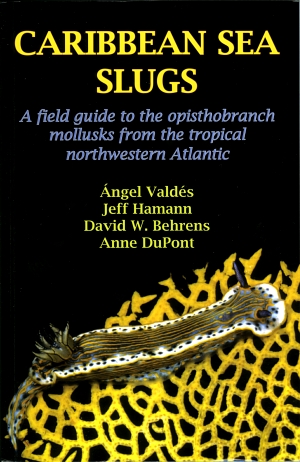 Caribbean Sea Slugs
A. Valdes, J. Hamann, D.W.Behrens & A. DuPont
Published 2006.
Sea Challengers Natural History Books
Gig Harbour, Washington
ISBN 0-9700574-2-3
289 pages, 23 x 15 cm
Price: approx $US 35
It has always surprised me that there was no book available on the Sea Slugs of the Caribbean. Although the excellent sections in Colin Redfern's Bahamian Seashells: a Thousand Species from Abaco, Bahamas and the Paul Humann & Ned Deloach Reef Creature Identification, Florida- Caribbean-Bahamas gave us an inkling of the beauty and diversity of this fauna, we had only really known it from the scattered scientific literature and their black & white drawings.
The authors, who include professional biologists and superb underwater photographers with an extensive firsthand knowledge of opisthobranchs, have produced for us a book packed full of beautiful photos showing us the diversity of the fauna from shelled acteonids to burrowing aeolid nudibranchs. I have not counted how many species are covered or how many photos there are, but there are not many empty spaces in the 290 pages. Some species are illustrated by single photos while in other cases there are three or four photos to show colour variation within a species.

There is a little biological information in this book, but as I have often said on the Forum, we know very little about the biology and natural history of individual species. Books like this are a valuable tool and catalyst for students and anyone else who find sea slugs fascinating, to develop an interest in their biology, and so answer some of the many questions we still need answers to. I don't agree with all the identifications, but that is to be expected, considering the existing literature on the group in the western Atlantic. This is a book that anyone with an interest in opisthobranchs should have. For the first time it gives us a flavour for the whole of the tropical western Atlantic fauna. The authors are to be congratulated.
Authorship details
Rudman, W.B., 2006 (August 30)
Caribbean Sea Slugs
. A. Valdes, J. Hamann, D.W.Behrens & A. DuPont.
[In] Sea Slug Forum.
Australian Museum, Sydney. Available from http://www.seaslugforum.net/factsheet/brvaldes2006