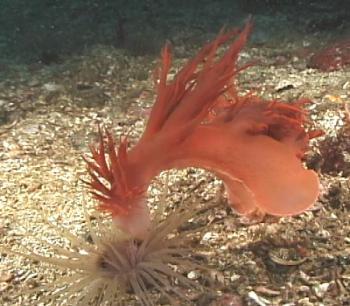 Dendronotus iris
Cooper, 1863
Order: NUDIBRANCHIA
Suborder: DENDRONOTINA
Family: Dendronotidae

DISTRIBUTION
West coast of North America from Alaska to Baja California.
PHOTO
Animal feeding on Pachycerianthus fimbriatus at Chup Point in Barkley Sound, British Columbia, Canada, 40 feet of water on sandy bottom with many Pachycerianthus, 27 November 2000. Photo: Ray Izumi
The colour of the body is highly variable, ranging from translucent white or gray, to orange or red. There can also be white spots or scattered brownish patches. One distinctive feature is that the stalk of the rhinophore sheath has a vertical row of three to six small branched processes on its posterior side. Another distinctive feature is that the foot is edged in white, although it seems that this can be partially absent in some animals. The oral veil has four paired processes. The branching gills can be tipped with white, orange, yellow, or purple. Dendronotus iris feeds on the burrowing anemone Pachycerianthus fimbriatus. It can grow to about 30cm but is usually one third that length.
References:
• Cooper, J. G. 1863. On new or rare Mollusca inhabiting the coast of California. No. II. Proceedings of the California Academy of
Natural Sciences, 3: 56-60.
• Robilliard, Gordon A. 1970. The systematics and some aspects of the ecology of the genus Dendronotus. The Veliger, 12(4): 433-479.
• Wobber, Don R. 1970. A report on the feeding of Dendronotus iris on the anthozoan Cerianthus sp. from Monterey Bay, California. The Veliger, 12(4): 383-387, pls. 55-57.