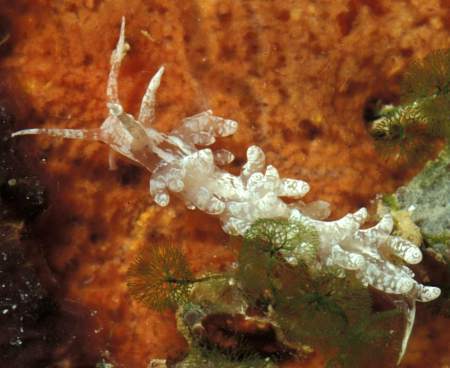 Favorinus auritulus
Marcus, 1955
Order: NUDIBRANCHIA
Suborder: AEOLIDINA
Family: Glaucidae

DISTRIBUTION
Caribbean, south to Brazil
PHOTO
Belize. Photo: Jeff Hamann.
Body translucent clear with scattered white patching all over body and cerata. Bottom half to two thirds of rhinophores is sometimes brown. Rhinophores usually have 3 swellings on the rhinophores but the number ranges from one to three, apparently dependent on the animal's length. It was previously considered that both Favorinus auritulus and the European Favorinus branchialis co-occurred in the Caribbean and could be separated by the number of rhinophore swellings - 2 in F. branchialis and 3 in F. auritulus but Edmunds & Marcus (1977) concluded that F. auritulus was the sole Favorinus in the tropical west Atlantic. A similar species, F. ghanensis Edmunds, 1968, from west Africa, is also reported to have the lower two-thirds of the rhinophores coloured brown.
Favorinus auritulus, like all species of the genus, feeds on opisthobranch eggs, and the colour of the eggs can chnage the colour of the ceratal digestive gland. Redfern (2001) also reports a specimen feeding on the arborescent bryozoan Zoobotryon verticillatum.
References:
• Edmunds, M. (1964) Eolid mollusca from Jamaica, with descriptions of two new genera and three new species. Bulletin of Marine Science of the Gulf and Caribbean, 14(1): 1-32.
• Edmunds, M. & Just, H. (1983) Eolid nudibranchiate Mollusca from Barbados. Journal of Molluscan Studies, 49(3): 185-203.
• Edmunds, M. & Marcus, Ev (1977) On Favorinus auritulus Marcus and Favorinus branchialis (Mueller). Journal of Molluscan Studies, 43(2): 200-201.
• Marcus, Er. (1955) Opisthobranchia from Brazil. Boletim da Faculdade de Filosofia, Ciencias e Letras. Universidade de Sao Paulo, Zoologia 20: 89-261. (Pls. 1-30)
• Marcus, Ev. & Hughes, H.P.I. (1974) Opisthobranch mollusks from Barbados. Bull. Mar. Sci., 24(3): 498-532.
• Marcus, Ev. & Marcus, Er. (1963) Opisthobranchs from the Lesser Antilles. Studies on the Fauna of Curacao and other Caribbean Islands, 19(79): 1-76.
• Marcus, Ev. (1977) An annotated checklist of the western Atlantic warm water opisthobranchs. Journal of Molluscan Studies, (Suppl. 4), 1-23.
• Redfern, C. 2001 Bahamian Seashells: a Thousand Species from Abaco, Bahamas
• Thompson, T.E. (1980) Jamaican opisthobranch molluscs: II Journal of Molluscan Studies, 46(1): 74-99.
Authorship details
Rudman, W.B., 2002 (September 25)
Favorinus auritulus
Marcus, 1955.
[In] Sea Slug Forum.
Australian Museum, Sydney. Available from http://www.seaslugforum.net/factsheet/favoauri