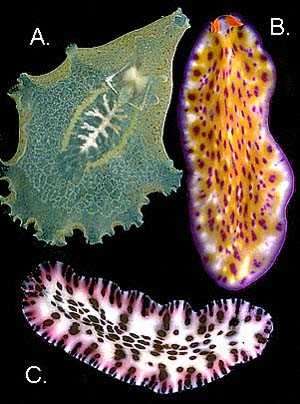 Flatworms

Phylum: PLATYHELMINTHES

PHOTO
Three common marine flatworms from south-eastern Australia.
A: Paraplanocera oligoglena.
B: Pseudoceros sp.
C: Eurylepta fuscopunctatus.
Photo: Bill Rudman.
Polyclad flatworms are free-living marine PLATYHELMINTHES, an animal phylum which also includes tapeworms, liver-flukes and other internal parasites. They are not related to sea slugs or other molluscs. Although very thin and delicate, flatworms are active carnivores and scavengers, using their proboscis to feed on dead or injured animals and colonial animals such as bryozoans and soft-corals. The worms can quickly glide along the bottom by using the fine hairlike cilia which cover their body. When disturbed they can swim for a considerable period of time by throwing the sides of their body into undulating waves.
For further information see:
Authorship details
Rudman, W.B., 1998 (May 27) Flatworms.
[In] Sea Slug Forum.
Australian Museum, Sydney. Available from http://www.seaslugforum.net/factsheet/flatworm