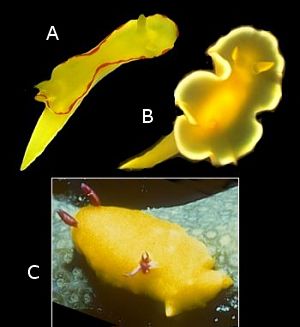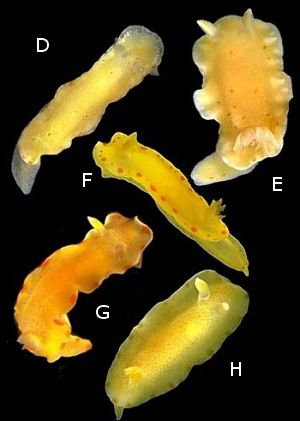 Noumea flava
Colour Group
PHOTO
A. Noumea flava
B. Noumea crocea
C. Noumea laboutei
D. Noumea closei
E. Noumea haliclona - Tasmania colour form
F. Noumea sulphurea - NSW colour form
G,H. Noumea sulphurea - southern colour form
For convenience, I have called these six yellow species of Noumea the "Noumea flava Colour Group" because of their similarity in colour. They can be separated by small differences in the colour pattern. Noumea laboutei with red gills and rhinophores, differs from the other five in which these organs are translucent yellow. In turn, N. crocea, with a whitish mantle border, differs from the other four species which have orange or red markings on the dorsum. Of these, Noumea flava is the most distinctive with a bright red or deep orange-red line around the mantle edge which widens regularly to form a series of spots. The remaining three, with orange or orange-red spots on the mantle, are all found in southern and southeastern Australia. Both N. sulphurea and N. closei have relatively large orange spots around the edge of the mantle, and Noumea closei also has orange spots in the central part of the mantle, which distinguishes it from N. sulphurea which does not. The yellow colour form of N. haliclona differs in having much smaller orange spots, which are usually absent from the edge, and in usually having an orange spot on the upper anterior edge of the rhinophore club. These species can also be differentiated anatomically by details of the reproductive system and buccal armature. For further information look at the individual species pages.
Reference:
• Rudman, W.B. (1986) The Chromodorididae (Opisthobranchia: Mollusca) of the Indo-West Pacific: Noumea flava colour group. Zoological Journal of the Linnean Society, 88: 377-404.
Authorship details
Rudman, W.B., 2001 (March 29)
Noumea flava
Colour Group.
[In] Sea Slug Forum.
Australian Museum, Sydney. Available from http://www.seaslugforum.net/factsheet/noumflavgp