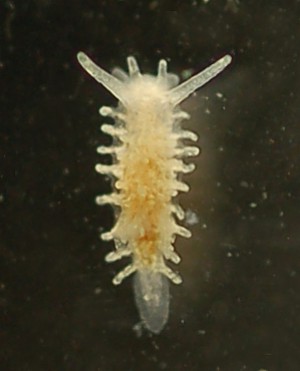 Okenia distincta
Baba, 1940
Order: NUDIBRANCHIA
Suborder: DORIDINA
Superfamily: ANADORIDOIDEA
Family: Goniodorididae

DISTRIBUTION
Known from northern Japan (Baba, 1940) and eastern Russia (Martynov, 1997 [see #21314 ]; Chernyshev, 2007 [ see #21293]).
PHOTO
Locality: Peter the Great Bay, intertidal, Russia, Pacific Ocean, Japan Sea, 1 October 2007, Intertidal. Length: 3-4 mm. Photographer: A.V. Chernyshev
Small elongate species with up to ten papillae along each side of the mantle edge and scattered papillae over the dorsum. The papillae are relatively short with a slightly inflated, rounded tip. The rhinophores are described by Baba as 'cylindrical, perfoliate'. In colour the animal is a translucent straw colour with an opaque mottling of cream and brown. It is reported to feed on the bryozoan Amathia [Chernyshev, #21293 ]
In general shape and colour, it is similar to Okenia zoobotryon, which feeds on Zoobotryon sp. and O. mija which feeds on a species of Amathia. However both of these species have a few distinctive cup-shaped lamellae on the rhinophores, while O. distincta apparently has many simple lamellae.
The radula, with a large inner denticulate tooth and a smaller bicuspid outer tooth (Baba, 1940) is very similar to both O. mija [#12638] and Z. bootryon [#16797, #12656].
Baba, K. (1940)  Some additions to the nudibranch fauna of the northern part of Japan. Bulletin of the Biogeographical Society of Japan, 10 (6): 103-111.

Martynov A.V. 1997. Subclassis Opisthobranchia. [In:] Kussakin O.G, Ivanova M.B., Zurpalo A.P. et al., Eds. The list of animals, plants and fungi of the intertidal of Far-Eastern Seas of Russia. Vladivostok, Dalnauka: 77-80.

Martynov A.V. 1998. Subclassis Opisthobranchia. [In:] Adrianov A.V., Kussakin O.G, Eds. Taxonomic catalogue of biota of Peter the Great Bay, Japan Sea. Vladivostok, Dalnauka: 204-209.

Martynov A.V. 2006. Nudibranchia. [In book:] Yu.I. Kantor, A.V. Sysoev. Marine and brackish water Gastropoda of Russia and adjacent countries: an illustrated catalogue. Moscow: KMK Scientific Press Ltd., pp. 268-294, plates 131-138.
Authorship details
Rudman, W.B., 2007 (December 13)
Okenia distincta
Baba, 1940 .
[In] Sea Slug Forum.
Australian Museum, Sydney. Available from http://www.seaslugforum.net/factsheet/okendist