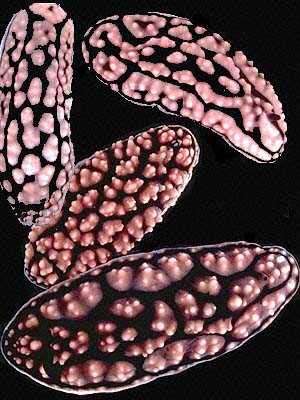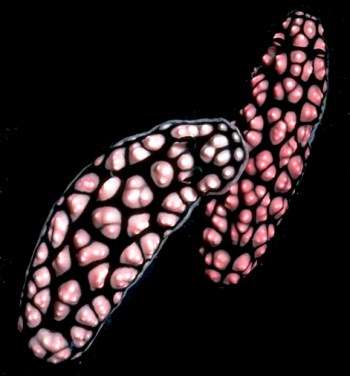 Phyllidiella pustulosa
(Cuvier, 1804)
Order: NUDIBRANCHIA
Suborder: DORIDINA
Family: Phyllidiidae

DISTRIBUTION
One of the most common nudibranchs throughout the tropical Indo-West Pacific.
PHOTO
Showing variation in arrangement of tubercles in UPPER: The tubercles in this species can range in colour from pink to green to white. Pelorus Is., North Queensland, October 1983, 15-43mm long. Photo: Bill Rudman. LOWER: 22 m depth, "Sponge mound", Apra Harbour, Guam, 5 July 1988, dorsal view of 65 and 56 mm specimens (Brunckhorst, 1993: Plate 5F). PHOTO: D. Brunckhorst.
RELATED TOPIC
Mimics of Phyllidiella pustulosa
Notes compiled from Brunckhorst, 1993:
Phyllidiella pustulosa changes in appearance as it grows. However, diagnostic features recognisable at any stage include the three median clusters of pink tubercles. The tubercles are in a cluster, which is amalgamated in juveniles and separated in large animals. The intensity of pink coloration (and green-grey tones) are possibly related to diet and time since feeding. Other distinguishing characters are the pale pink edge to the mantle, the broad, triangular, black tipped oral tentacles and the rhinophoral clavus possessing 22-26 lamellae (specimens greater than 35 mm). Phyllidiella pustulosa is closest in appearance to Phyllidiella annulata, Phyllidiella zeylanica and Phyllidiella granulata. P. annulata differs in having many pink rings with low angular tubercles, in lacking a pale edge to the mantle and in the possession of 17-20 lamellae on each rhinophoral clavus (specimens greater than 23 mm). P. zeylanica has pink compound tubercles which are coalesced into longitudinal ridges (i.e., not clusters), black longitudinal lines, and the anal opening partially encircled by pink tubercles. P. zeylanica is pale grey ventrally and has 20-23 lamellae on each rhinophoral clavus (specimens greater than 30 mm). P. granulatus has three median groups of tubercles but differs from P. pustulosa in that the tubercles are acute, multi-compound and white with grey bases and intermediate granular grey areas, a granular grey mantle edge and 17-20 lamellae on each rhinophoral clavus.

Reference:
• Brunckhorst, D.J. (1993) The systematics and phylogeny of Phyllidiid Nudibranchs (Doridoidea). Records of the Australian Museum, Supplement 16: 1-107.
Authorship details
Rudman, W.B., 1999 (September 12)
Phyllidiella pustulosa
(Cuvier, 1804).
[In] Sea Slug Forum.
Australian Museum, Sydney. Available from http://www.seaslugforum.net/factsheet/phylpust