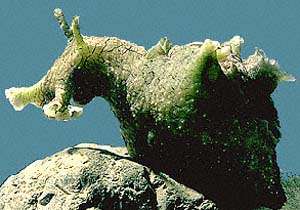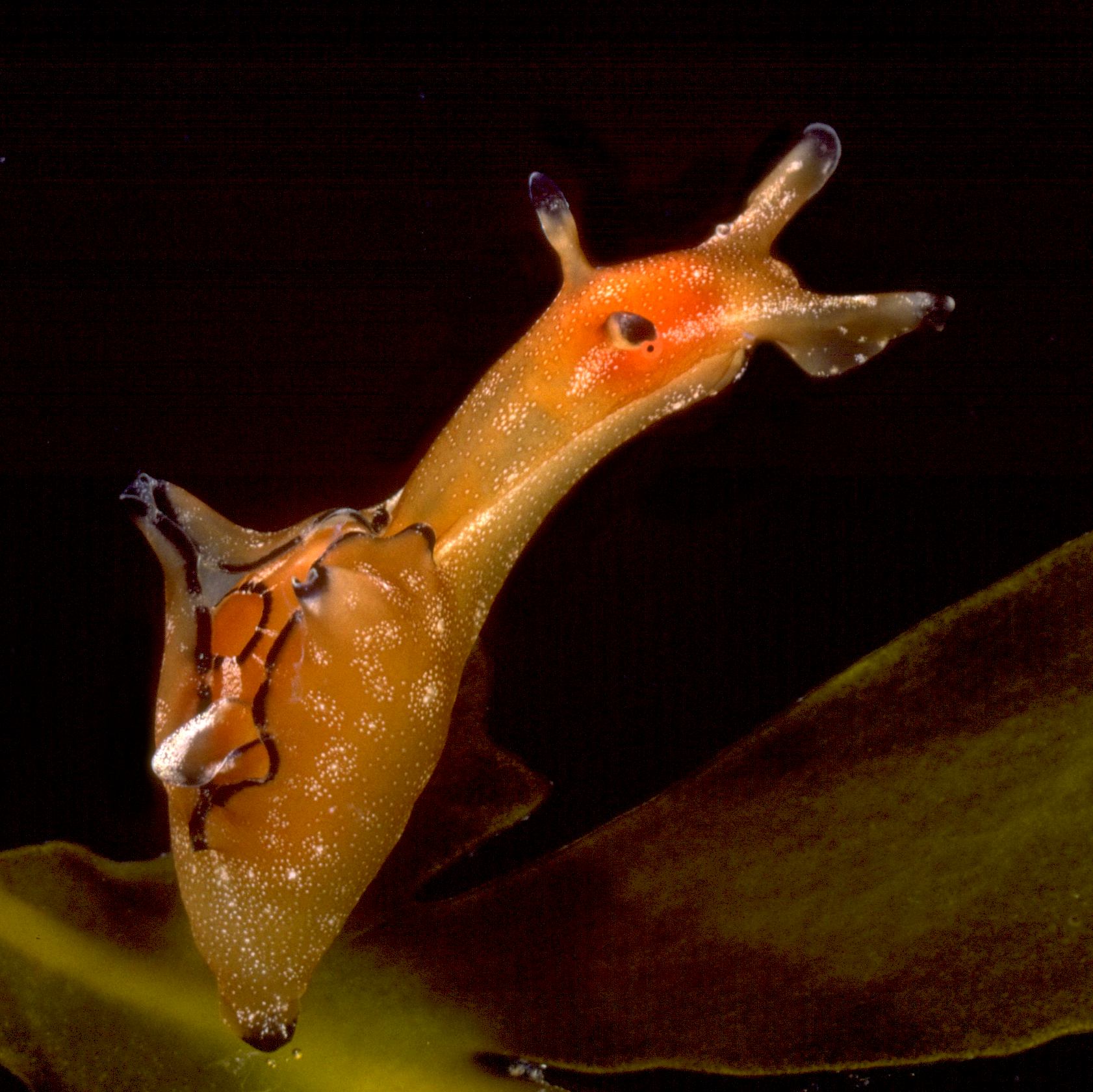 What are Sea Hares?

Order: ANASPIDEA
Superfamily: APLYSIOIDEA

DISTRIBUTION
All around the world in temperate and tropical waters.
PHOTO
UPPER: Aplysia dactylomela. With a bit of imagination this does look a bit like a hare or a rabbit, although the erect head tentacles (rhinophores) are a bit small for ears. (Koumac, New Caledonia, October 1993).
LOWER: Aplysia parvula, showing the typical oral tentacles at the front of the head, on either side of the mouth and the smaller rhinophores just above the eyes. At the back you can see the large parapodial flaps which have a dark brown edge. These parapodia enclose the mantle cavity in which the fragile plate-like shell is found. In this photo, part of a brown ring can be seen. This outlines the hole (foramen) which leads to the cavity in which the shell is found. (southern Tasmania, February 1984). Photos: Bill Rudman.
This is a page for general messages about Sea Hares. See also Page 2.
The Sea Hares, consist of 9 genera: Aplysia, Bursatella, Dolabella, Dolabrifera, Notarchus, Petalifera, Phyllaplysia, Stylocheilus and Syphonota. They range in size from species growing less than 2 cm, to large species which reach over 70 cm in length. They usually have a head bearing a pair of enrolled rhinophores, and large flattened, enrolled oral tentacles on each side of the mouth. The shell, when present, is reduced to a thinly calcified internal plate over the gill and heart. This very reduced mantle cavity is enveloped in a pair of large parapodial lobes, which in some genera are partially fused to form a secondary parapodial chamber.
These animals have been called 'Sea Hares' since classical times because of their resemblance - at least in European species - to a sitting hare.
For further information on these animals go to the General Topics list.
You should be familiar with Kandel's two books which are important resources both for physiologists and biologists:
Kandel, E.R. (1976) Cellular Basis of Behaviour. An introduction to behavioural neurobiology. W.H.Freeman & Co., San Francisco. 727 pages.

Kandel, E.R. (1979) Behavioural Biology of Aplysia. San Francisco, W.H.Freeman & Co. 463pp.
Authorship details
Rudman, W.B., 1998 (April 14) What are Sea Hares?.
[In] Sea Slug Forum.
Australian Museum, Sydney. Available from http://www.seaslugforum.net/factsheet/seahares