July 31, 2003
From: Bruce Potter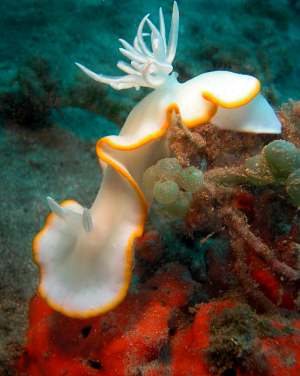 Dear Bill,
Last Sunday 27 July 2003, I found this beautiful Ardeadoris egretta on my usual Sunday morning dive site on the outskirts on Honiara.
It was about 85mm long, at about 13m deep on coral and rubble.
As an indication of how prolific this site is, I also found on the same dive, Hypselodoris bullocki, Risbecia godeffroyana, Risbecia tryoni, Chromodoris leopardus, Phyllidia varicosa, Phyllidia tula, Phyllidiella pustulosa, Notodoris minor, plus the velutinid Coriocella nigra
Regards,
Bruce Potter.
bruce.potter@adventist.org.sb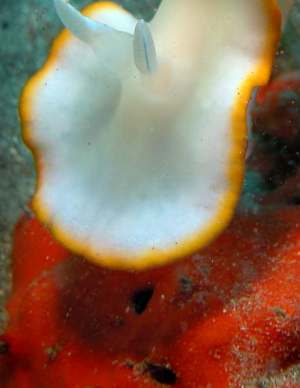 Dear Bruce,
It sounds like a very satisfying dive. I wonder if Ardeadoris egretta was interested in the red sponge as food or just as something to walk over.
Best wishes,
Bill Rudman
---
Factsheet