August 25, 2003
From: Dee Wamock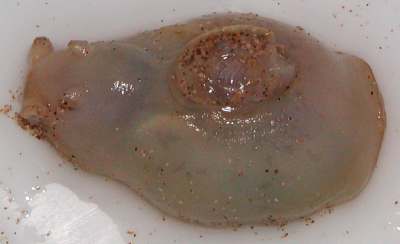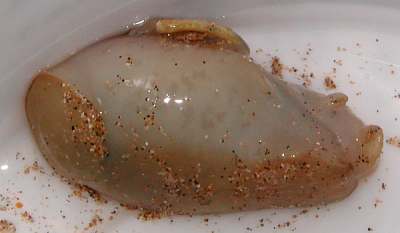 Aloha,
Found this creature on Kamaole Beach 1 in South Maui, Hawaii, this morning Friday 22 August 03, washed up on the sandy beach as tide receding. After ascertaining that it was, unfortunately, lifeless, took it home, took pics which I've attached 2. My only reference book is HAWAII'S SEA CREATURES by John P. Hoover and I'm an amateur with lots of questions. The book briefly describes a few cephalaspideans and although my find is colorless, the picture of Haminoea cymbalum in the book looked similar enough in general structure to make me believe I may have found a type of bubble shell. Do they lose color after death or would this just be a colorless species? I can see a faint dark-greenish shadow and mottling inside. Are bubbles soft on the exterior, because when I gently probe with a toothpick, it is fleshy-soft on the exterior, except for a hard spot on the little flap on its back. Or is it something totally different?
My name is Dee and I live next to the beach on Maui and walk it most mornings and also snorkel and dive our reef but haven't seen many sea slugs. As I learn more I may be able to spot them better. I am not a trained biologist, my BA is in anthropology but I've always been fascinated with nature and wanted to find answers and know about things. Haven't tried to dissect my find yet (it's in the fridge). My husband would probably appreciate my figuring out what this is right away so it leaves the kitchen but I have to know so will await enlightenment...
Thanks for any help.
BeachDee@hotmail.com
Wamock, D., 2003 (Aug 25) Sea Hare from Hawaii.
[Message in] Sea Slug Forum.
Australian Museum, Sydney. Available from http://www.seaslugforum.net/find/10826
Dear Dee,
This is a Sea Hare. It is definitely dead and beginning to swell as decomposition occurs. The flap on the back is the mantle, and the hard plate inside is the thin shell. The mantle and shell are usually covered, or partially enclosed by parapodial flaps, but I guess they have partly rotted away. From the lower photo you can see a sort of disc at the back of the foot. This would suggest this is Aplysia juliana, but I can't be 100% sure. If you follow the links indicated you will find planty on the Forum about Sea Hares
Best wishes,
Bill
Rudman, W.B., 2003 (Aug 25). Comment on Sea Hare from Hawaii by Dee Wamock.
[Message in] Sea Slug Forum.
Australian Museum, Sydney. Available from http://www.seaslugforum.net/find/10826
---
Factsheet