August 28, 2003
From: Richard Lord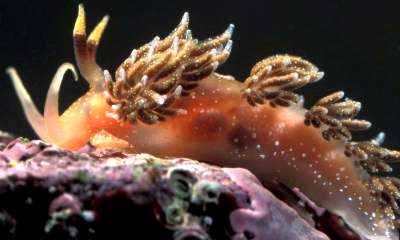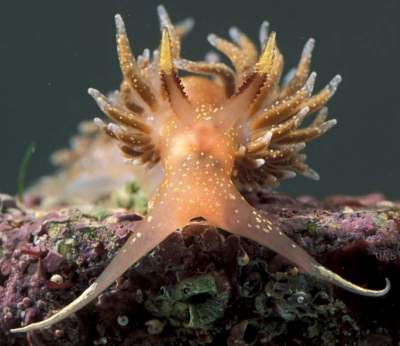 Dear Bill:
I think the species in the attached photos is Facelina annulicornis. I would appreciate your confirmation. This specimen was collected by crab potter Clive Brown on August 2, 2003 from his crab pots off the south coast of Guernsey, English Channel.
YOu asked me in a response to a previous photo submission whether crab pots accidentally caught opisthobranchs. Clive and I believe that the occurrence of opisthobranchs in his crab pots is not accidental. After a season in the sea the lobster and crab pots are home to bryozoan, hydroid and ascidean colonies. We believe that the opisthobranchs somehow find the crab pots to feed and lay their eggs.
Best Wishes,
Richard Lord
fishinfo@guernsey.net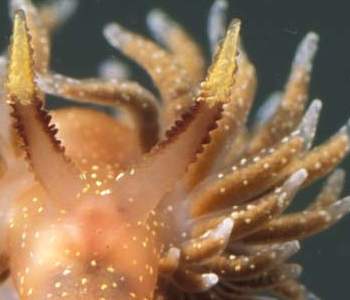 Dear Richard,
I agree with you identification. The photo alongside shows the morphology of the rhinophores, with a smooth anterior edge, very well.
Thanks for the information about the crab pots. When I asked my question I was thinking of the pots as traps - I should have been thinking of them from a small invertebrates' point of view, as a habitat.
Best wishes,
Bill Rudman
---
Factsheet