November 12, 2003
From: Paul Furneaux
Dear Bill,
I came across this individual sea hare back in August when there was a large group of Aplysia juliana breeding in a relatively confined area in Tauranga Harbour [New Zealand]. At first I thought that it was a different species but from what I read about Aplysia juliana it has many colour forms and so I assumed that this was just a different colour variant, but I would appreciate your opinion on this. It was the same size (about 250mm long) as the other very dark "green/black" form which was the only colour that I saw in hundreds of individuals over July - August - September breeding period. (By early October all of these individuals had completely disappeared )
The egg string of this individual was a much lighter colour than the usual egg string, more of a pale cream than the intensely bright yellow of the dark colour forms. I observed this individual once only (7th August) in three to four months of observations. Unfortunately, when discovered it was resting by itself, some 10m from the next closest dark colour form, so I cannot say for certain that it was breeding with them. The photo of the two forms side by side was set up simply to make a comparison.
Regards,
Paul Furneaux.
P.Furneaux@xtra.co.nz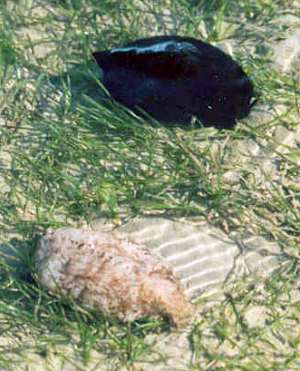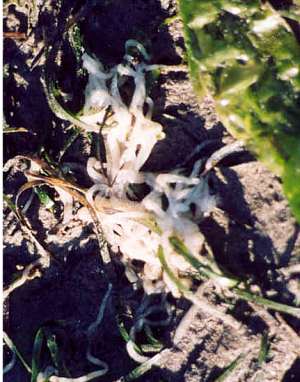 Furneaux, P., 2003 (Nov 12) Colour form? of
Aplysia juliana
.
[Message in] Sea Slug Forum.
Australian Museum, Sydney. Available from http://www.seaslugforum.net/find/11405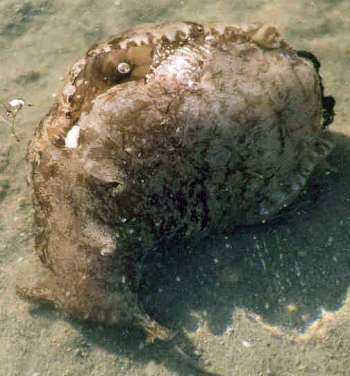 Dear Paul,
I've just returned from 2 weeks in New Zealand, but I'm afraid Tauranga and the east coast lost out to a revisit to New Plymouth and Taranaki where I lived more years ago than I care to remember.
I am pretty sure your sea hare is not A. juliana. Usually if there are different colour forms present they will be in substantial populations. I suspect you animal is what I would call Aplysia sydneyensis. Did it produce any purple ink? One major difference between A. juliana and most other sea hares is that it doesn' produce purple ink. On the other hand A. sydneyensis does. There are other external differences such as the parapodia in A. sydneyensis not joining posteriorly etc but withour the specimen it's a bit hard to check.
If I am right, this species has in recent years been identified in New Zealand as Aplysia keraudreni Rang, 1828 [Morton & Miller, 1973; Willan & Morton, 1984] but the original description of that species appears unidentifiable to me. That is not to say that the original description of Aplysia sydneyensis is much better, but at least it is localised to a species occurring in Sydney.
• Morton, J.E. & Miller, M.C. (1968) The New Zealand Sea Shore. Collins: London & Auckland. 1- 638.
• Willan, R.C. & Morton, J.E. (1984) Cape Rodney to Okakari Point Marine Reserve. Marine Molluscs Part 2. Opisthobranchia. Leigh Marine Laboratory, University of Auckland, Auckland. 106 pages.
Best wishes
Bill Rudman
Rudman, W.B., 2003 (Nov 12). Comment on Colour form? of
Aplysia juliana
by Paul Furneaux.
[Message in] Sea Slug Forum.
Australian Museum, Sydney. Available from http://www.seaslugforum.net/find/11405
---
Factsheet