November 15, 2003
From: Hiroaki Sakoh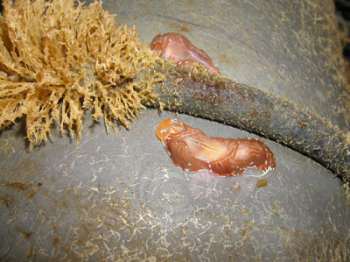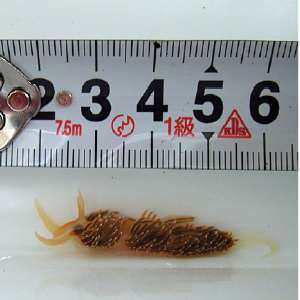 Dear Bill,
I am a research scientist at the Mutsu Institute for Oceanography / Japan Marine Science and Technology Center. My speciality is primary production and low level food web in aquatic ecosystem. At present I am engaged in research of the carbon cycle of the northwest North Pacific. Moreover, my hobby is diving.

I would be grateful for some comments on this sea slug obsservation I have made.
I collected these animals slug from a mooring system moored in the northwestern North Pacific for one year. The mooring system was positioned at about 39N and 160E.
The depth of water of the place is about 5450m and the top depth of the mooring system was about 30m.
I collected four sea slugs from the top of an instrument moored at about 40m depth. It seems that these sea slugs are all of the same kind and I think they are probably Hermissenda crassicornis. Would you agree?
This mooring point is situated in the the Kurosiwo extension Current. However, the place is about a thousand nautical miles from the shore. I think that the adult sea slugs of this kind cannot swim long distances. If that is so I suspect the veliger larva were transported there by the Kuroshio Current. The speed of Kuroshio Current is 1-5 Knots. If the average speed of the current is 2 Knots, they would have taken at least 20 days to drift there.
Can they live as planktonic veliger larva for 20 days or more? I hear that Hermissenda crassicornis has a very large distribution from the Pacific coast in the United States to Japan. Did they settle down as they migrated from the west coast to the east coast of the Pacific Ocean? Is this an unusual observation? I woulod be grateful for your comments.
Sincerely yours,
Hiro

Hiroaki SAKOH
Mutsu Institute for Oceanography
Japan Marine Science and Technology Center
690 Kitasekine, Sekine,
Mutsu, Aomori, 035-0022 Japan
sakoh@jamstec.go.jp
Sakoh, H., 2003 (Nov 15)
Hermissenda
- 1000 miles from land.
[Message in] Sea Slug Forum.
Australian Museum, Sydney. Available from http://www.seaslugforum.net/find/11419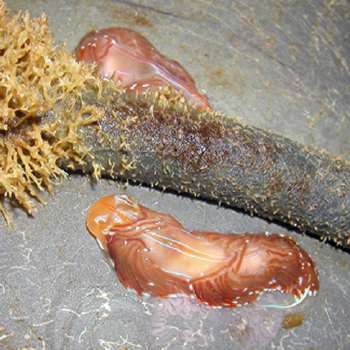 Dear Hiro,
Your animals are Hermissenda crassicornis, and as you suggest, they must have got to your mooring floats as larvae. If you have a look at the Hermissenda Fact Sheet, and in the attached messages, you will find quite a few references to the biology of this species.
The best place to look for information on larval biology, however, would be the Woods Hole Marine Biological Laboratory web site at: http://hermes.mbl.edu/BiologicalBulletin/MMER/KUZ/KuzTit.html
[Alan M. Kuzirian, Tom Capo, Donna McPhie, and Catherine T. Tamse. The sea slug, Hermissenda crassicornis: phylogeny, mariculture, and use as a model system for neurobiological research on learning and memory. [The Marine Biological Laboratory, Woods Hole, MA 02543]]
You will see there that the planktonic larvae have a mimimum 30 day planktonic stage before settlement. Settlement can be delayed until about 76 days but few can metamorphose successfully after 50 days. So if your calculation of a minimum travel time of 20 days is correct, then they certainly could travel the distance. Concerning your question about whether these may have stopped off on a migration from Japan to Nth America it's important to distinguish migration from geographic distribution. While birds and fish may undertake great distance migrations each year, the same cannot be said for small invertebrates. Present day distributions are most likely the result of slow incremental expansion from an initial origin. Perhaps now and then a few lucky larva may drift a long distance and make a quick expansion in geographic range but that would depend on more than one larva arriving at the same spot at the same time, finding an appropriate food source, settling together, and reaching reproductive maturity. This would involve a lot of luck.
Observations such as yours are rare, so I am very grateful you are willing to share it with us. Hopefully other contributors to the Forum will add further comments or similar observations
Best wishes
Bill Rudman
Rudman, W.B., 2003 (Nov 15). Comment on
Hermissenda
- 1000 miles from land by Hiroaki Sakoh.
[Message in] Sea Slug Forum.
Australian Museum, Sydney. Available from http://www.seaslugforum.net/find/11419
---
Factsheet