January 12, 2004
From: Jun Imamoto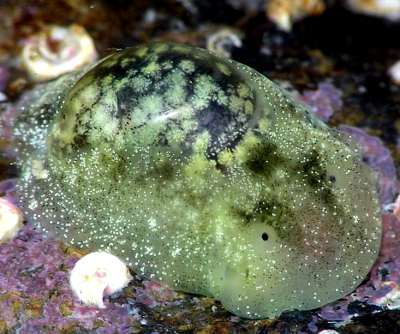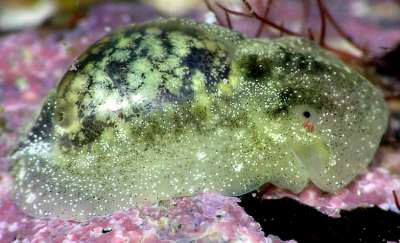 Dear Bill,
Here is a sea slug which I meet for the first time. I think it is a sea slug although it looks quite like a shellfish or kind of snail. However the the form of the head is like Bulla but it also seems to be Haminoea as well. I would be very happy for your comments.
31 December 2003
Amami Ooshima Islands, Kagoshima, Japan.
size: approx 8mm
depth: 1 m
temperature: 21 C
Best Regards,
Jun Imamoto
http://www.umiushi.info/
imamoto@umiushi.info
Imamoto, J., 2004 (Jan 12)
Smaragdinella calyculata
or
S. sieboldii
? from Japan..
[Message in] Sea Slug Forum.
Australian Museum, Sydney. Available from http://www.seaslugforum.net/find/11814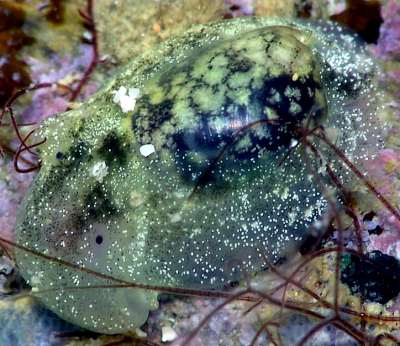 Dear Jun,
This is a nice New Year's surprise! It is a species of Smaragdinella, a strange relative of Haminoea which we didn't have represented on the Forum. It is indeed a sea slug although its shape and flattened shell do make it look like a snail. One quite good way of telling a snail [shellfish] from a sea slug is that snails have their eyes on a stalk of some sort while in slugs the eyes are buried in the skin as you can clearly see in your animal.
You don't actually say where on the shore you found it, but in my experience it lives on rocky intertidal regions, often exposed at low tides. I think of it is as the cephalaspidean limpet, both because of its shape and place on the shore, where it sticks firmly to the rock and is hard to dislodge. The body is quite muscular and firm, except for the reduced parapodia which only partially cover the flattened ear-shaped shell.
My first thought is that this is a pale version of Smaragdinella calyculata, which I have just added to the Forum for comparison, but that species is usually more pigmented than yours. There is another species, S. sieboldi, which has been reported from Japan which differs in the shape of its shell, but unfortunately I know nothing about the shape of the living animal. It would be interesting to know what the shell of your animal looks like. From illustrations I have seen of the shell of S. sieboldi, it is colourless, not green, and instead of having a spoon-shape projection on the inner lip, it has a small body whorl as seen in species of Philine.
If anyone has a photo of the living S. sieboldii I would be interested in seeing it. Otherwise I would need to see a photo of the shell of this animal before I could be sure of an identification. Thanks for another interesting addition to the Forum
Best wishes
Bill Rudman
Rudman, W.B., 2004 (Jan 12). Comment on
Smaragdinella calyculata
or
S. sieboldii
? from Japan. by Jun Imamoto.
[Message in] Sea Slug Forum.
Australian Museum, Sydney. Available from http://www.seaslugforum.net/find/11814
---
Factsheet