April 15, 2005
From: Cynthia Trowbridge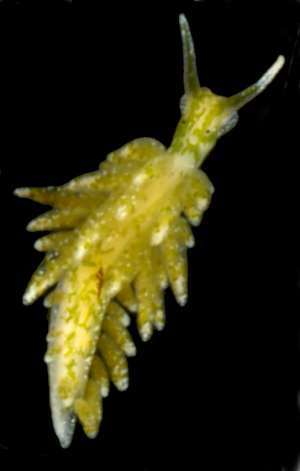 Dear Bill, Kathe, and colleagues,
During my recent trip to Okinawa, the Hiranos and I found 10 specimens of this Ercolania sp. at several sites on the green alga Boodlea. As far as I can ascertain, it is not any of the described species of Ercolania from Japan (i.e., not in Baba 1959).
I would be grateful of any suggestions of its identity. I would consider it Ercolania based on the sabot-shaped teeth (see attached photo taken with Olympus Mic-D digital microscope). Other attributes include elongate pericardium with no digestive diverticula, simple rhinophores, and branched diverticula in cerata.
The key features are the red patches mid-dorsally between the cerata [see lower right photo ]. In our 10 specimens, there was variation in the number (0-2) and placement of red patches among individuals (anterior and/or posterior to pericardium).
Locality: west coast of Okinawajima, Okinawa, Japan, East China Sea. Depth: less than 1 m. Length: several mm (data in Japan). 10-15 March 2005. shallow subtidal rocky shore. Photographer: Tomohiro Watanabe (slug) and Cynthia Trowbridge (radula)
In a message dated 16 Feb. 2002, [message #4177] Kathe mentioned an undescribed Ercolania species: "the last time I [Kathe] visited Rottnest Island, I found a few specimens of what I think is an undescribed species of Ercolania, which I think occurred on Struvea and Cladophoropsis, and which had a purple "spot" (probably the genital receptacle visible through the epidermis) in the neck."
Could this be the Australian species? or a described species not yet reported for Japan? Any thoughts would be much appreciated. Carlson & Hoff (2003) have a undescribed species (Ercolania 6) with a comparable red patch and another (Ercolania sp. 4) from Boodlea in Guam. It would be wonderful if a PhD student would study all the undescribed Ercolania spp. in the NW Pacific.
Baba, K. 1959. The family Stiligeridae from Japan (Opisthobranchia - Sacoglossa). Publ Seto Mar Lab 7: 327-334.

Carlson, C. and Hoff, P.J. 2003. The opisthobranchs of the Mariana Islands. Micronesica 35-36: 272-295.
Cordially,
Cynthia
trowbric@onid.orst.edu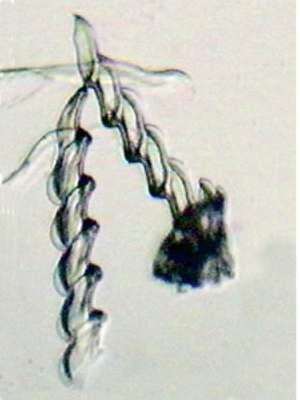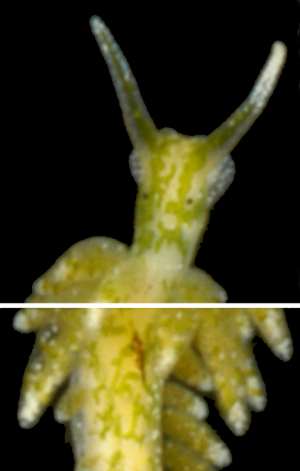 Trowbridge, C.D., 2005 (Apr 15) Unknown
Ercolania
sp. from Okinawa.
[Message in] Sea Slug Forum.
Australian Museum, Sydney. Available from http://www.seaslugforum.net/find/13437
Thanks Cynthia,
Bill Rudman