July 1, 2005
From: Arpit Deomurari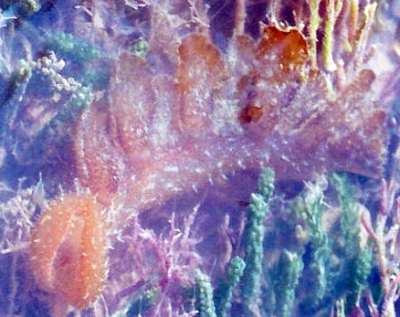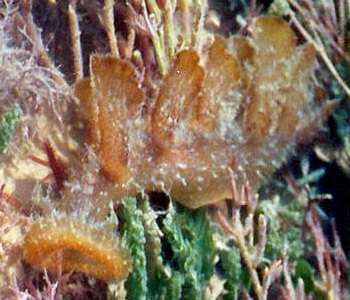 Respected Sir
I'm an amateur marine biologist from Gujarat, India. We have a marine national park in the Gulf of Kutch. This April I came across two different species of sea slug which I think are not recorded from this region. The one of which pictures are given here is very strange looking slug. I had checked all the referance of sea slug from this area but i haven't found any reference close to this species. Please help me to identify this species. I have also doubt that it could not be opisthobranch too... but in India there are very limited resources available to study them...
Remarks:
1. Total 3 individuals found in around 1 Sq KM
2. They were found feeding on algae with it's mouth by expanding and grasping the algae in it's mouth like structure.
Locality: Bay of Poshitra, (24.77.46 N, 52.07.77 E). near Okha, Gujarat. India Gulf of Kutch, Arabian Sea. Depth: shallow water coral reef . Length: 20 cm. April 2005. coral reef with algae bloom. Photographer: Arpit Deomurari
Arpit Deomurari
arpit@kutchabhiyan.net
Deomurari, A.N., 2005 (Jul 1)
Melibe
from the Gulf of Kutch, India.
[Message in] Sea Slug Forum.
Australian Museum, Sydney. Available from http://www.seaslugforum.net/find/14130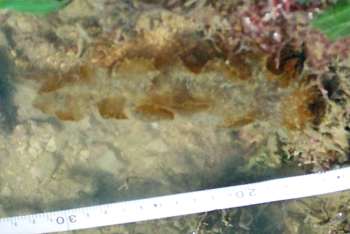 Dear Arpit,
This is Melibe viridis, a species of the strange and spectacular nudibranch genus Melibe. In fact I spent 2 months in 1971 in the Gulf of Kutch collecting nudibranchs and one of the animals I was looking for was Melibe because it had been reported from Okha and I was keen to see it. I didn't know then but it was the wrong time of year, but the staff of the marine station at Okha were very helpful. The expedition to find Melibe involved a rather hair-raising journey in a small dhow and then an hours walk in about 40 C heat across an island and then what seemed like an endless search in knee deep mud without success. A few days later some helpful technicians at the marine station found 4 animals at nearby Balapur [11 June 1971 - 8cm long] - just as in your photos. Unfortunately I had run out of film so was unable to photograph them. So now, 35 years later, I have a photo of the Melibe from Okha.
I have listed below one reference to the opisthobranch fauna of the Gulf of Kutch, which I guess you are familar with, but I am sure there is another which mentions finding Melibe. Unfortunately I can't find it, but if I do I'll let you know.
I see Pirotan Island is now a marine park with accomodation. There was no accomodation when I was there, and one of my strongest memories of the island was sleeping in an old fishing boat and waking in the morning to find that rats had been crawling over me and my wife during the night to feast on a watermelon we had brought with us for food. As my wife said - amongst other things - "You have to be crazy to study slugs"
Narayanan, K. R. (1969) On the opisthobranchiate fauna of the Gulf of Kutch. Proceedings of the Symposium on Mollusca held at Cochin from January 12 to 16, 1968, Symposium Series 3, Pt. 1, Marine Biological Association of India, Mandapam Camp, India: 188-213. Figs 1-20.
Best wishes,
Bill Rudman
Rudman, W.B., 2005 (Jul 1). Comment on
Melibe
from the Gulf of Kutch, India by Arpit Deomurari.
[Message in] Sea Slug Forum.
Australian Museum, Sydney. Available from http://www.seaslugforum.net/find/14130
---
Factsheet