January 30, 2006
From: Jeff Goddard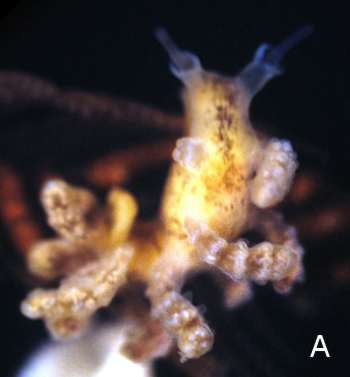 Hi Bill,
Here are some photos of Doto columbiana. In my 1996 paper on development in Doto amyra, I referred to these specimens as Doto form B and stated that they might be a light form of Doto columbiana. After reexamining the evidence, including specimens collected more recently, I believe these are Doto columbiana and also realize that I erred in assuming that this species - with dark pigment on the body - might be identified as Doto amyra, which typically lacks any dark pigment.  This species is correctly identified in McDonald and Nybakken (1980) and McDonald (1983), but the specimen pictured as Doto columbiana in Behrens (1991) is actually Doto kya, the other species of Doto with dark pigment on the body known from north of Point Conception, California.

PHOTOS: A, Intertidal, South Jetty, Coos Bay, Oregon, July 1984; specimen of unknown length. Photo B,  Rocky shore, mouth of Drake's Estero, Marin County, California, April 1984; specimens approx. 5 mm long. Photo C, Rocky shore, Montana de Oro, San Luis Obispo County, California, May 2005; largest specimen 4 mm, in MgCl2. Photographer: Jeff Goddard
Doto columbiana has 5 to 6 pairs of cerata, compared to 8 to 9 in Doto kya, and the tubercles on Doto columbiana are typically much flatter than in Doto kya, giving the cerata of some specimens an almost smooth appearance. Doto columbiana also lacks the opaque white grains found in the rhinophores and rhinophore sheaths of Doto kya. Doto columbiana is typically found on species of Aglaophenia, while Doto kya is usually on species of Plumularia. Both Doto columbiana and Doto kya produce small planktotrophic larvae.

I think that part of the confusion - at least my own - about the identity of Doto columbiana stemmed from the impression that the tubercles on the cerata of this species are always ringed by dark pigment, as originally described by O'Donoghue (1921) for 5 specimens dredged from the vicinity of Nanaimo, British Columbia. However, Marcus (1961) noted that this was the case for only five out of 25 preserved specimens from Dillon Beach, California. I have included a photo of three specimens I collected in November 2004 fromAglaophenia at Purisima Point, Santa Barbara County, California, showing similar variation in preserved specimens. The cerata tubercles on the middle specimen, which is 3.3 mm long, are ringed by dark pigment, while the cerata on the specimen on the left are completely light colored, and those on the larger specimen contain only faint, broken rings of pigment [see message #15677 ]. As seen in the attached photos of the living specimens, the cerata of Doto columbiana are often light colored and lack dark rings around the tubercles. In contrast, the more southerly

Doto lancei consistently has dark rings around the cerata tubercles. Further confusing the identification of Doto columbiana, Marcus (1961) stated that the number of pairs of cerata is 7, but the sketches of the whole animals in his Plate 7, one of which was based on a sketch of the living animal by the collector, clearly depict 5 to 6 pairs.
Behrens, D.W. 1991. Pacific Coast Nudibranchs. Sea Challengers, Monterey, California. 107 pp.

Goddard, J.H.R. 1996. Lecithotrophic development in Doto amyra (Nudibranchia: Dendronotacea), with a review of developmental mode in the genus. The Veliger 39(1):43-54.

Marcus, Er. 1961. Opisthobranch mollusks from California. The Veliger 3(Supplement 1):1-85.

McDonald, G.R. 1983. A review of the nudibranchs of the California coast. Malacologia 24(1-2):114-276.

McDonald, G.R. and Nybakken, J.W. 1980. Guide to the nudibranchs of California. American Malacologists, Inc., Melbourne, Florida. 72 pp.

O'Donoghue, C.H. 1921. Nudibranchiate Mollusca from the Vancouver Island region. Transactions of the Royal Canadian Institute 13:147-209.
Best wishes,
Jeff
goddard@lifesci.ucsb.edu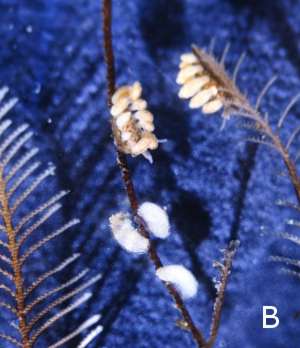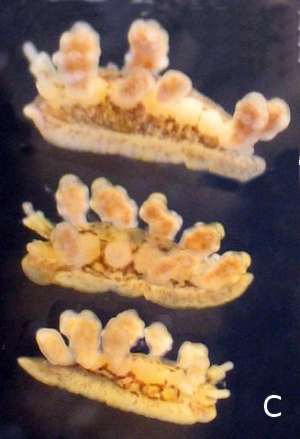 Goddard, J.H.R., 2006 (Jan 30)
Doto columbiana
from California and Oregon.
[Message in] Sea Slug Forum.
Australian Museum, Sydney. Available from http://www.seaslugforum.net/find/15676
Thanks Jeff,
It's good to get these sorted out.
Best wishes,
Bill Rudman
Rudman, W.B., 2006 (Jan 30). Comment on
Doto columbiana
from California and Oregon by Jeff Goddard.
[Message in] Sea Slug Forum.
Australian Museum, Sydney. Available from http://www.seaslugforum.net/find/15676
---
Factsheet