May 8, 2006
From: Keith Ammons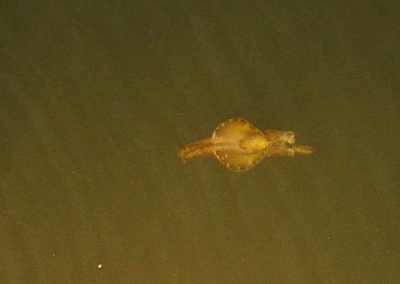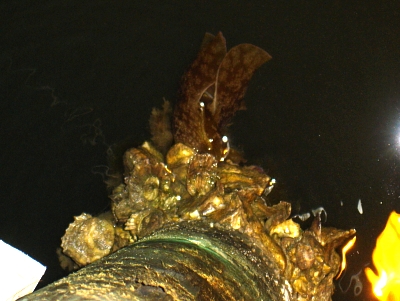 A few nights ago, around midnight, at dead tide I observed a Sea Hare Aplysia brasiliana swimming in the dock lights of our pier. The posts are covered with oysters and it looked as if the Sea Hare was feeding on the shells. I have been night fishing this area for almost 20 years and this was my first sighting of the creature. I did not know what it was until I discovered this Forum. Thanks for the extensive references. My question is, are there any populations numbers for the Gulf of Mexico? How common are these animals?
Locality: Orange Beach, 10 feet, Alabama, USA, Old River, , 04, May 2006, Aobut 50 yards south of the orange beach pass. Sandy bottom. Length: 10 to 12 inches . Photographer: Keith Ammons.
Thanks in advance
Keith Ammons
tourof12@aol.com
Ammons, K., 2006 (May 8) Sea hare in Alabama.
[Message in] Sea Slug Forum.
Australian Museum, Sydney. Available from http://www.seaslugforum.net/find/16547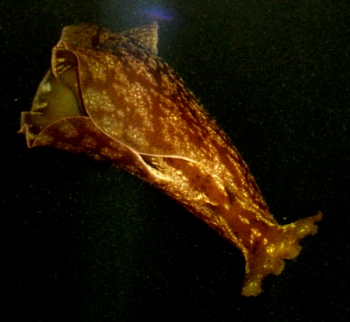 Dear Keith,
Your reaction 'I've been coming here for years and never seen them before' is quite a common response on seeing large Sea Hares. If you look through the messages concerning the different species of Sea Hares on the Forum you will see that people from the Mediteranean, Portugal, Australia and Florida have all responded the same way. I think there are at least two reasons why they are seldom noticed at a particular spot. The first is that humans tend to be creatures of habit and so come to a particular spot, such as a specific jetty each time,  while Sea Hares, although they may be in an area regularly, and in large numbers, they may be in a different spot each time perhaps a hundred meters, perhaps a kilometer away from where they were last time. The other reason is that these 'events' are very short lived. You may find a group swimming for a couple of days, or a large aggregation may be there and then gone in a week.  I guess you have looked at the Mass Mortality Fact Sheet where I discuss some of the possible reasons for these population fluctuations.
I don't know of any population surveys of Sea Hares in the Gulf of Mexico. I suspect such a survey would be very difficult as they are often hard to see when they are small and when they are large and most obvious they often are at the end of their life cycle and about to die. There distribution can aslo be very patchy. As to how common they are - in many species every individual has the potential to produce tens of thousands of planktonic larvae. After that it is all a bit of a lottery as the larvae have to feed in the plankton, avoid being eaten by plankton-eating predators and then find the right sort of place to settle down and grow to adulthood. Some larvae succeed but obviously most fail. The success rate surely differs from year to year so there will be good years and bad, but the messages coming to the Forum suggest that there are healthy populations  of A. brasiliana and A. morio in the Gulf of Mexico.
Concerning you comment of them feeding on oyster shells. They could well be eating sea weeds growing on the shells, or they could just be tired. Although some species can swim for quite a long time, they are normally bottom dwellers, so I guess if they come across a 'rest stop' they make use of it.
Best wishes,
Bill Rudman
Rudman, W.B., 2006 (May 8). Comment on Sea hare in Alabama by Keith Ammons.
[Message in] Sea Slug Forum.
Australian Museum, Sydney. Available from http://www.seaslugforum.net/find/16547
---
Factsheet