June 2, 2006
From: V. Caro & M. Ossokine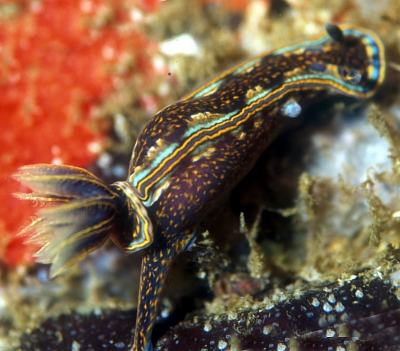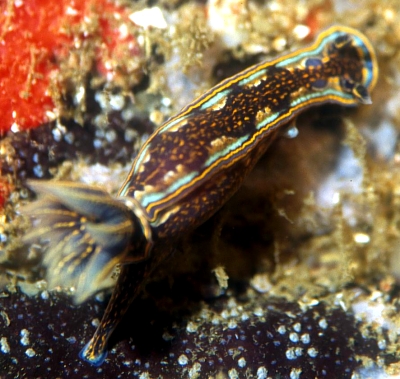 Dear Bill,
Valerie Caro sent me these Hypselodoris photos from Senegal for identification. These animals surprised me and I think it is interesting enough to be shared with the Forum. So, Valerie agreed I write you in her name.
At first sight this animal looks similar to several Caribbean species. But it doesn't fit any species I know. In fact, I think it is a colour form of Hypselodoris bilineata, because it has many characters common with this species, even if it seems different at first sight :
- gills : 2 lines externally and one line internally
- rhinophores : yellow line posteriorly
- dorsal pattern : same sequence of yellow, black and bright blue lines or bands
Locality: 'Grand Turiba', Dakar, 30m, Senegal, Atlantic Ocean, 20 February 2004. Length: 3-4 cm. Photographer: Valerie Caro.
Bill, could you give us your opinion on these animals, please.
Thank you in advance for your valuable help.
Best wishes,
Marina (and Valerie).
[Marina Poddubetskaia Ossokine & Valerie Caro]
valanafred@free.fr
nembro@nembro.info
Caro, V. & Poddubetskaia Ossokine, M., 2006 (Jun 2)
Hypselodoris bilineata
? from Senegal.
[Message in] Sea Slug Forum.
Australian Museum, Sydney. Available from http://www.seaslugforum.net/find/16619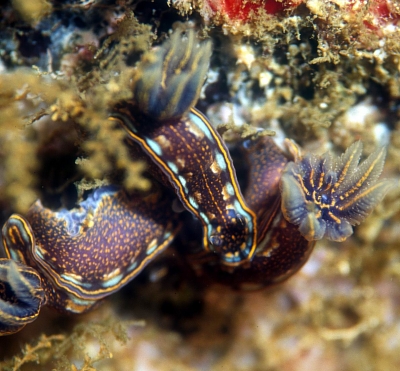 Dear Valerie & Marina,
I agree these are very interesting animals. I think they also illustrate that we still have a lot to learn about the Atlantic 'blue chromodorids'. They certainly have similarities in colour to H. bilineata, but the distinctive feature in that species seems to be the median double yellow line on the dorsum. Edmunds (1982) identifies animals from Ghana, with white lines inside the yellow lines as H. bilineata, and Ortea et al (1996) do the same with animals from Senegal. In the animals in your message there are no median yellow lines, although there is a single median row of yellow dots in one animal. Instead the prominent feature are the fine yellow dots scattered all over the central part of the mantle and the sides of the body. 
I don't know if you have a copy of Ortea et al (1996), but although I am puzzled by some of the decisions in that revision, it is the best summary available. In that they have a photo (Fig 7E) of a juvenile of H. malacitana which has the same basic colour pattern as your animals, although the spots are a little larger.
I am posting a number of messages today on 'blue chromodorids'. I hope some local experts can give us their opinions.
Edmunds, M. (1981) Opisthobranchiate Mollusca from Ghana: Chromodorididae. Zoological Journal of the Linnean Society, 72(2): 175-201.
Ortea, J., Valdés, A. & García-Gómez, J.C. (1996) Revisión de las especies atlánticas de la familia Chromodorididae (Mollusca: Nudibranchia) de grupo cromático azul. [Review of the Atlantic species of the family Chromodorididae (Mollusca: Nudibranchia) of the blue chromatic group.] Avicennia, 1996, Suppl. 1: 1-165.
Best wishes,
Bill Rudman
Rudman, W.B., 2006 (Jun 2). Comment on
Hypselodoris bilineata
? from Senegal by V. Caro & M. Ossokine.
[Message in] Sea Slug Forum.
Australian Museum, Sydney. Available from http://www.seaslugforum.net/find/16619
---
Factsheet