May 30, 2006
From: Bill Rudman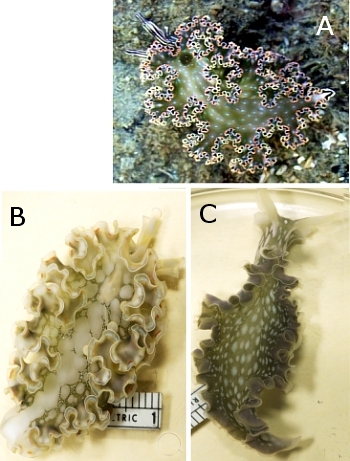 UPPER PHOTO: A. E. diomedea Photo: Rebecca Rissanen. B. E. crispata. C. E. clarki. Photos: S.K. Pierce.
In their recent description of Elysia clarki, the authors (Pierce et al, 2006) argue that there are many differences from E. crispata in habitat, gross and microscopic anatomy, food preferences of juveniles, sources of symbiotic chloroplasts and their localization within the digestive tubules, radular morphology, and nucleic acid sequences of mitochondrial genes.
Since these two species have been confused as one species for many years, I thought it would be useful to summarise some of the key differences between these species which can be seen by field biologists. It's not much value if you have to DNA test every specimen before you can be sure of its identity. At present E. clarki is known only from mangrove swamps, mooring canals and borrow pits in the Florida Keys, while E. crispata is considered to be found in more open reef waters throughout the Caribbean. It would be interesting now to find out whether E. clarki also has a wider distribution, perhaps in similar habitats throughout the Caribbean. For example, I suspect the animal from Belize [message #1656 ] is this new species..
Colour: Well-fed E. clarki are nearly uniformly green, interspersed with comparatively small round or oval translucent whitish spots. The green colour is present on most external surfaces including much of the head, the parapodia and the sole of the foot. In E. crispata, the green colouration is a minor part of the colour pattern, and does not extend onto the sole of the foot which is a translucent opaque whitish colour. Both species can have bluish, orange and greenish bands at the parapodial edge. Elysia diomedea, is similar to E. clarki.in the distribution of green, but while in E. clarki, the green on the sole of the foot is interspersed with rounded and oval whitish spots, in E. diomedea the translucent white regions are broken lines running parallel to the long axis of the body. E. diomedea also differs in having a characteristic pattern of black and white lines running down the rhinophores onto the head. Other differences in colour are the small blue spots scattered over the dorsum and inner walls of the parapodia, and a border of black spots, and sometimes red or orange spots, on the parapodial edge.
Parapodia: Elysia crispata is unique in having the parapodia fused in the anterior midline. In both the other species there is a small gap in the anterior midline. In both E. crispata and E. diomedea the parapodial edges are extremely folded with both primary and secondary folds. E. clarki, by comparison, has only primary folding, and often when at rest in sunlight, the parapodia will open and flatten out inot a leaf shape.
Pierce, S.K., Curtis, N.E., Massey, S.E., Bass, A.L., Karl, S.A. & Finney, C.M. (2006) A morphological and molecular comparison between Elysia crispata and a new species of kleptoplastic sacoglossan sea slug (Gastropoda: Opisthobranchia) from the Florida Keys, USA. Molluscan Research, 26(1): 23-38
Best wishes
Bill Rudman
LOWER PHOTOS: Right - showing anterior parapodia. Left - showing ventral colouration. A. E. crispata, B, E. clarki, C. E. diomedea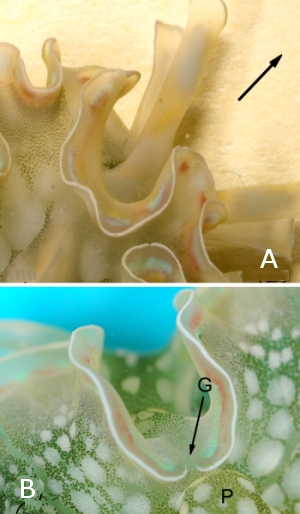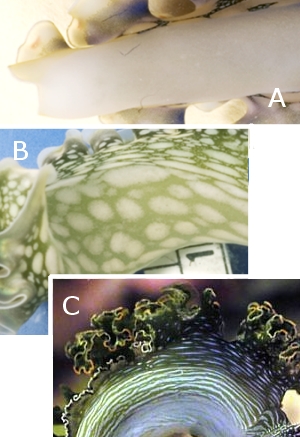 Rudman, W.B., 2006 (May 30)
Elysia clarki, E. diomedea
and
E. crispata
.
[Message in] Sea Slug Forum.
Australian Museum, Sydney. Available from http://www.seaslugforum.net/find/16728
---
Factsheet