January 5, 2007
From: Erling Svensen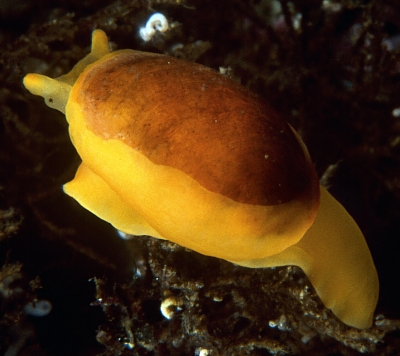 I have a picture of Berthella sideralis from Stavanger in Norway (South West of Norway). I see that you miss this species from your list.
Locality: Stavangere, 15 meter, Norway, Norwegian Sea, November 2002, Rocky wall falling down to 50 meter. Length: 2 cm. Photographer: Erling Svensen.
Best regards
Erling Svensen
www.marinbi.com
erling@egersund.com
Svensen, E., 2007 (Jan 5) Photo of a living
'Berthella' sideralis
.
[Message in] Sea Slug Forum.
Australian Museum, Sydney. Available from http://www.seaslugforum.net/find/19089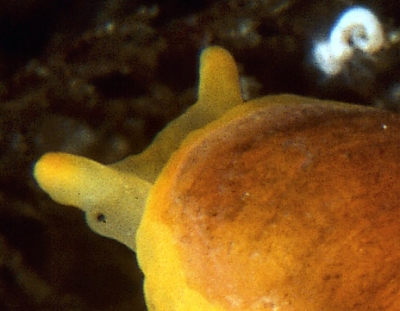 Note: see messages #19133 and #19147 showing this is a velutinid.
Dear Erling,
Thanks for this valuable contribution. Even though we are only a few days into the new year I can confidently say that this is one of the most important messages of 2007. This is the first time I have seen this species alive, and I know of no published account of it alive.
Your photo clearly shows that the shell is exposed, not because the animal has been damaged, but because it retains a primitive character lost in all other pleurobranchs. Your photo also shows that the head is quite different from that found in species of Berthella. In your animal the rhinophores are short extensions to the outer corners of the oral veil, and the eyes, at the base of the rhinophores, are much further forward than found in other pleurobranchs. In Berthella, the oral veil and rhinophores are separate, and the eyes, at the base of the rhinophores are hidden beneath the anterior edge of the mantle.
Berthella sideralis was previously known from a very few records from deep water [200 -1100 m] off the Atlantic coast of Europe, so your find from 15 m suggests an extremely wide depth range for this species. Although not quite as extreme, I have reported Umbraculum umbraculum from the intertidal to 270 m deep off eastern Australia [message #724]. What makes your photo particularly interesting is that on the Atlantic coast of Nth America, another very similar-looking deep water pleurobranch has been reported, Pleurobranchus americanus, which was placed in a distinct genus Gymnotoplax [= naked shell] based primarily on the external shell.  It is most probable (see Bouchet, 1977) that these two species are the same. However researchers have only had preserved specimens to study, and since Willan (1978) concluded that the 'hole' in the mantle had been produced by mantle damage during collection, all have agreed with his decision that Gymnotoplax is an unnecessary genus. Your photo shows that the external shell is a 'real' character, and that Gymnotoplax represents a distinct group of pleurobranchs with an external shell and combined oral veil and rhinophores.
Your message reminds me of one some years ago from Atsushi Ono [message #6231] which included a photo which I identified as Sohgenia palauensis. Previously this species had never been seen intact, so the photo enabled us to correctly understand its phylogenetic relationships for the first time. If you have other photos of Berthella sideralis which perhaps show the head from another angle, or the right side of the animal, I would love to see them.
Best wishes,
Bill Rudman
Rudman, W.B., 2007 (Jan 5). Comment on Photo of a living
'Berthella' sideralis
by Erling Svensen.
[Message in] Sea Slug Forum.
Australian Museum, Sydney. Available from http://www.seaslugforum.net/find/19089
---
Factsheet