March 16, 2007
From: Constantine Mifsud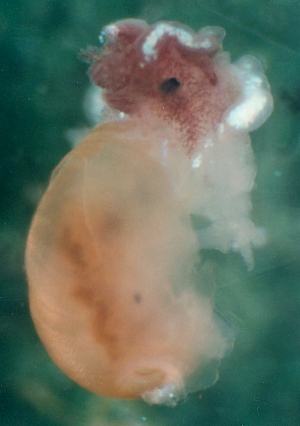 Concerning message #19088:
Dear Bill,
There must be some confusion on these Philine species. The Laona pruinosa (Clark, 1827) image which I posted has always been found with the shell externally. I am posting an image of the only other Laona we have, which is L. flexuosa M.Sars, 1870, (dredged from 80m) but this has a more colourful body and the brownish shell may be internal because the two times I have found it live, the mantle was torn.
Locality: off Gnejna Bay, 80 metres, Malta, Mediterranean, August, 1994, muddy sand substrate. Length: 4 mm. Photographer: C. Mifsud.
Constantine Mifsud
kejdon@orbit.net.mt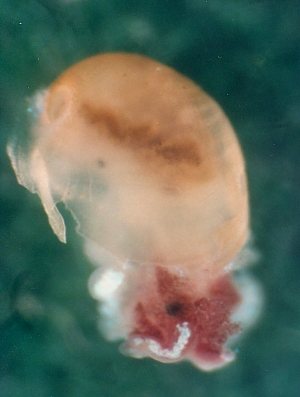 Mifsud, C., 2007 (Mar 16) Re:
'Laona pruinosa'
from Malta.
[Message in] Sea Slug Forum.
Australian Museum, Sydney. Available from http://www.seaslugforum.net/find/19675
Dear Con,
There definitely is confusion here. I remember when I was studying Philine some years ago that I really didn't understand what Vayssiere, Monterosato and Pruvot-Fol were saying, and it seems this was because their species were misidentified with coldwater northern Atlantic species. It seems to me that the species identified from the Mediterranean as Laona pruinosa and Laona flexuosa are wrongly identified, and it looks like the confusion goes back to 1884 when Monterosato was giving Mediterranean shells names of animals from the Nth Atlantic - perhaps because he had M. Sars exhaustive work (1878 ) on the group.
Firstly, P. pruinosa has an internal shell, and apparently lacks gizzard plates. I can't find anything on the animal of P. flexuosa, but its shell seems to have an indenting or 'flexing' of the upper part of the body whorl, which is rather different from your inflated shell.
The other point to mention is just what is Laona?  A. Adams (1865) proposed the genus Laona for the Japanese species, L. zonata, on the grounds that its shell was 'roughened by lamellose growth striae'. He mentioned that P. pruinosa had a similar shell and should be placed in the new genus as well. Adams specifically mentions that nothing is known of the animal, so his genus was based solely on the 'roughness' of the shell. As far as I know we still know nothing about the anatomy of the type species, Laona zonata, so it is not possible to judge the value of the genus or whether any other species should be placed there. As I have discussed elsewhere, (Rudman, 1972), dividing the genus Philine into subgenera, or genera, on the basis of single characters, is meaningless in evolutionary terms. Pilsbry (1896) defined the characters of Laona as 'shell with latticed sculpture' but Pruvot-Fol (1954) defined it as species without gizzard plates, and with coloured periostracum, which implies an external shell. This expanded description seems to be base entirely on misidentified specimens of P. pruinosa.
Unfortunately much of the literature is based on shells alone, so for many accounts we have no idea whether the shell was internal or external. All I can say is that I don't think either of your Mediterranean species are P. pruinosa or P. flexuosa and until we know something about their anatomy I can't even be sure they belong to the Philinidae. It would be interesting to see photos of the empty shells.
Adams, A. 1865. Annals & Magazine of Natural History, series 3, (15): 324.

Monterosato, T. (1884) Nomenclatura generica e specifica di alcune Conchiglie Mediterranee. Palermo, Virzi.  1-152.

Pilsbry, H.A. (1896) Manual of Conchology; Structural and Systematic with Illustrations of the Species. [Ed:  G.W.Tryon] Vol. 16, 251pp, Pls 1-71.

Pruvot-Fol, A. (1954) Mollusques Opisthobranches. Faune de France, Paris 58: 1-460, Pl.1.

Rudman,W.B. (1972) The genus Philine (Opisthobranchia, Gastropoda). Proceedings of the Malacological Society of London, 40(3): 171-87, 10 figs.

Sars, G.O. (1878) Bidrag til Kundskaben om Norges Arktiske Fauna 1. Mollusca Regionis Articae Norvegiae. Universitetsprogram for foerste halvar 1878: 1-467, Tab I-XVI.
Best wishes,
Bill Rudman
Rudman, W.B., 2007 (Mar 16). Comment on Re:
'Laona pruinosa'
from Malta by Constantine Mifsud.
[Message in] Sea Slug Forum.
Australian Museum, Sydney. Available from http://www.seaslugforum.net/find/19675
---
Factsheet