September 20, 2007
From: Juan Lucas Cervera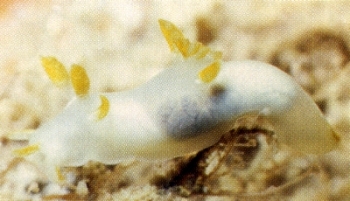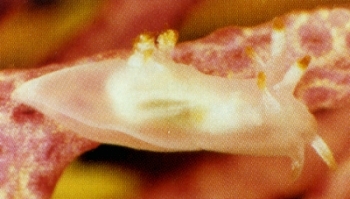 Concerning message #20685:
Hi Bill,
Several authors have found and recorded Trapania tartanella after its original description. You can find these records in the Introduction of the description of Trapania sanctipetrensis, as well as references to such records. One of them (Ortea et al, 1989) is a redescription of T. tartanella. The color plate included in the paper describing T. sanctipetrensis Cervera, García-Gómez and Megina, 2000, shows a picture of both T. hispalensis and T. tartanella. I have included copies of those picture here.
Upper photo: T. hispalensis, Straits of Gibraltar, Spain, 13 mm long. Lower photo: T. tartanella, southern Portugal, 6 mm long. Photos: J. C. Garcia Gomez.
I checked the radula of Portuguese specimens of T. tartanella many years ago and it matches Ihering's description.
I never found both species together, although the geographic distribution of both species overlap partially. In my experience, externally, in T. tartanella all the yellow areas show a superficial orange pigmentation at the tips, which is lacking in T. hispalensis. This is the only external difference that I have seen. In fact, when I collect the first specimens of T. hispalensis, I thought that belonged to T. tartanella. However, the radula differentiate both species very well.
Cervera J.L., Garcia-Gomez J.C. & Megina C. (2000) A new species of Trapania Pruvot-Fol, 1931 from the Bay of Cadiz, with remarks on other Trapania species (Nudibranchia: Goniodorididae). Ophelia, 52(1): 17-24.

Ortea, J. A., Quero, A., Rodriguez, G., and Valdés, A. (1989) Redescripcion de Trapania tartanella (Ihering, 1886) (Mollusca: Nudibranchia). Bollettino Malacologico, 25: 241-246.
Best.
Lucas.
lucas.cervera@uca.es
Cervera, J.L., 2007 (Sep 20) Re:
Trapania tartanella
and
T. hispalensis
.
[Message in] Sea Slug Forum.
Australian Museum, Sydney. Available from http://www.seaslugforum.net/find/20698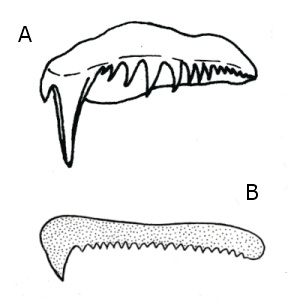 Thanks Lucas,
I thought it would be useful to add a couple of drawings showing the different shape of the radula tooth in each species. There seem to be two major subgroups within Trapania, one having teeth with a large outer cusp and then many much smaller inner denticles, and another group in which there are a number of larger cusps, some much longer than others, and a few smaller ones, each species being distinguished by the arrangement of larger and smaller cusps. These two species are an example of each subgroup.
A. Trapania hispalensis [from Cervera, Garcia-Gomez & Megina, 2000]
B. Trapania tartanella [from Ihering, 1886].
The paper by Ortea et al (1989) confirms the radular morphology of T. tartanella. It seems that almost all the animals I have on the Forum as T. tartanella are most probably T. hispalensis. Thanks also Lucas for permission to use photos of T. orteai and T. sanctipetrensis from the colour plate to prepare Fact Sheets for those two species.
Best wishes,
Bill Rudman
Rudman, W.B., 2007 (Sep 20). Comment on Re:
Trapania tartanella
and
T. hispalensis
by Juan Lucas Cervera.
[Message in] Sea Slug Forum.
Australian Museum, Sydney. Available from http://www.seaslugforum.net/find/20698
---
Factsheet