December 12, 2007
From: Sampo Tiensuu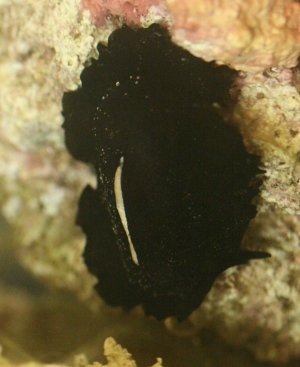 Dear Bill Rudman,
In our laboratory at the University of Helsinki we have a 300 l research aquarium, which was set up in August 2006. We bought the live rocks second hand, and got a black sea slug with them. I have enclosed a photo I took of the slug in the aquarium. Here are some observations of the slug:
 During the 16 months it has been in our aquarium, it has grown from about 1 cm to 5 cm in length.

 It crawls really slowly on the rocks and sometimes on the aquarium wall. The movement can hardly be detected, but every time I go to see it, it has moved to a different place. I suppose that it eats seaweed that grows on the rocks.

The ventral side, which is not seen in the picture, is white.

I have once seen the white stripe on the dorsal side to have expanded to a large irregularly shaped protruding swelling. I was able to examine this swelling closely, but when I came back after a couple of minutes, it had returned to normal. I wonder what this might mean.

I have no idea, what part of the world do the live rocks originally come from, but in the aquarium shop where I bought the rocks they have a pool with a lot of slugs like this. However, The shopkeeper did not know where they came from.

The salinity of the aquarium has been kept between 30 and 35 ppt. The temperature was originally about 23 degrees Celsius, but we have now lowered it to 19 degrees. The photoperiod is 12h/12h.
If possible, I would like to have answers to the following questions:
What species does this slug belong to?

Are there any features visible, that someone, who is inexperienced with sea slugs could use to guess in which larger taxonomic group it belongs to?

What is the purpose of the white stripe on the dorsal side?

We are planning to lower the temperature to 15 degrees Celcius for other reasons. Will our slug tolerate such temperatures?

How long could we expect this slug to live?
Best regards,
Sampo Tiensuu
Tiensuu, S.L., 2007 (Dec 12) A Black Sea Slug in an Aquarium.
[Message in] Sea Slug Forum.
Australian Museum, Sydney. Available from http://www.seaslugforum.net/find/21300
Dear Sampo,
I am pretty sure this is a species of Scutus. Have a look at the Fact Sheet and the attached messages for more information on this animal. Until I started the Forum I did not realise just what a common hitch-hiker on 'live rock' this animal is. The white stripe which seem to get wider and thinner is an illusion caused by the black flaps sometimes expanding to cover the white shell and sometiimes  contracting to expose a bit of it. The most obvious external clues to its relationships are the 'external' shell and the head tentacles and eyes which are characteristic of vetigastropod snails.
There is surprisingly little in the literature about the biology of Scutus, but as I mention above, if you have a look at the comments on the messages attached to the Fact Sheet you will find quite a bit of information. Concerning the water temperature it will tolerate. I assume this is a tropical species so it may not like too cool a temperature. Certainly temperate species in New Zealand could tolerate 15 C. All I can suggest is see what happens - or take it back to the aquarium shop.
There is a slight possibility it is cowry or an ovulid but in these groups the shell is polished and much more egg-shaped than the flat plate-like, roughened shell of Scutus.
Best wishes,
Bill Rudman
Rudman, W.B., 2007 (Dec 12). Comment on A Black Sea Slug in an Aquarium by Sampo Tiensuu.
[Message in] Sea Slug Forum.
Australian Museum, Sydney. Available from http://www.seaslugforum.net/find/21300