July 29, 2008
From: Yahia Mokhtar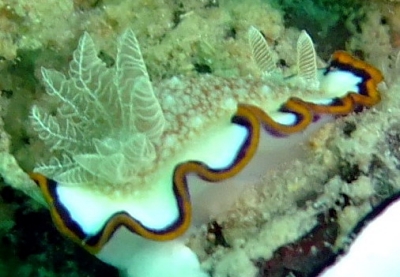 Concerning message #21728:
In my previous message, I described how I had photographed two Chromodoris annulata, then discovered while reviewing the photos at home that I had inadvertently photographed a Chromodoris obsoleta lying between them.
Yesterday I was lucky enough to meet again two or three C. obsoleta lying in between two C. annulata on another wreck in the Arabian Sea about 30 nm away from the earlier wreck, and again they were found in between two C. annulata.
Locality: MV-Hannan Wreck, 12m, Abu-Dhabi, United Arab Emirates, Persian Gulf (South), 26 July 2008, wreck on 20 m depth. Length: 25 mm. Photographer: Yahia Mokhtar.
Just wanted to share the new photos and ask about three points that I noticed:
1- Both Chromodoris obsoleta were lying in between two Chromodoris annulata.
2 - Both occurrences were on a metal wreck (not a reef).
3 - Water temperature between 33-35°C
Could this be a co-incidence?
yahia@adma.ae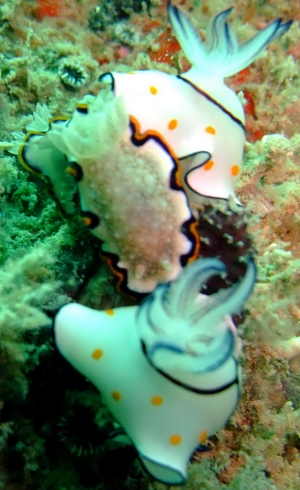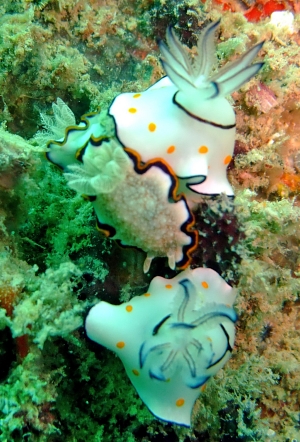 Mokhtar, Y., 2008 (Jul 29) Re:
Chromodoris obsoleta
&
C. annulata
from Abu-Dhabi, UAE.
[Message in] Sea Slug Forum.
Australian Museum, Sydney. Available from http://www.seaslugforum.net/find/21749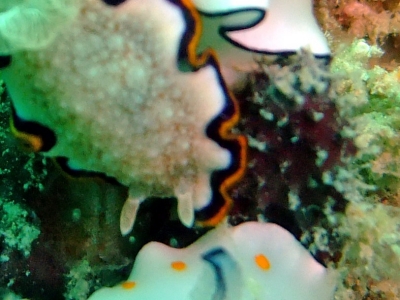 Dear Yahia,
This is a valuable find. In my comments on your earlier message I said that when I see a cluster of nudibranchs like this, either a single species or a mix of species, my first thought is "what are they eating?".  In these photos we can clearly see that they are very interested in the dark purple-brown sponge on which they are sitting. I am pretty sure this sponge is the aplysillid Chelonaplysilla violacea, or at least a close relative. If you could check your photos to see if you have one that shows the surface of the sponge more clearly I would be very grateful.
As we don't know at present the food of either of these chromodorids this is a valuable clue. One piece of evidence supporting my idea that this is Chelonaplysilla violacea is that C. annulata is one of 8 species which has a large purple patch on the underside of its anterior mantle [see #20849], and of the 6 species in that group whose food choice we know, all eat Chelonaplysilla.  Another clue is that in an earlier message on C. obsoleta [message #20777] the photos show it crawling on a dark purple black sponge which I suspect is also Chelonaplysilla.
In answer to your questions. The reason the species are together is their mutual attraction to the same sponge food - I am sure there is not some weird inter-species love fest going on. In another message [#12729] we have a large aggregation of C. obsoleta and one C. cazae, which would suggest that C. cazae also eats the same sponge. I also guess that there is no great significance with the C. obsoleta being between the C. annulata. I guess since the latter are much bigger animals, the C. obsoleta had to squeeze in between.
Concerning the metal wreck - if there is a relationship then it will be between the sponge and the metal. The nudibranch's relationship is directly to the sponge. However working out such relationships can be very complicated, and may be simply that you dive more wrecks than natural reefs, or that certain sponges are able to grow into larger, or at least more visible, colonies on wrecks.
Thanks for this interesting observation. If by chance you have a photo which shows more detail of the sponge's surface I would love to see it. Otherwise, if you see these chromodorids again and can take a close-up of the sponge it might help me confirm the identity of the sponge, which would mean we could add 3 more chromodorids to the list of those whose food we know.
Best wishes,
Bill Rudman
Rudman, W.B., 2008 (Jul 29). Comment on Re:
Chromodoris obsoleta
&
C. annulata
from Abu-Dhabi, UAE by Yahia Mokhtar.
[Message in] Sea Slug Forum.
Australian Museum, Sydney. Available from http://www.seaslugforum.net/find/21749
---
Factsheet