November 3, 2008
From: David Mullins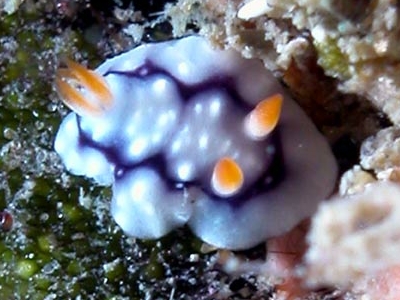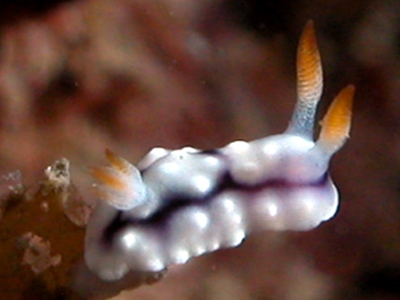 Concerning message #2570:
Dear Bill,
I read with great interest Valda Fraser's message [#2570 ] from S. Africa and your reply thereto which is at the moment quite a topical discussion for us as it would appear the reverse situation exists here in S.E. Qld.
Whereas we find Chromodoris geometrica (lower photo) not uncommonly on our dives it was only last weekend that we encounted a specimen in possession of orange gills and rhinophores with an orange clavus which has led us to believe it may well be Chromodoris conchyliata (upper photo ).
Upper Photo:  Old Woman Island (Mudjimba Island) Maroochydore, Sunshine Coast,, 12 metres, Queensland, Australia., Pacific Ocean, 25 October 2008, Rocky Reef. Length: 6 mm. Photographer: David Mullins.
In reviewing my file of Chromodoris geometrica photos it would appear that we perhaps also unwittingly recorded it once before back in 2006 (middle photo ).
I should report, as it may be of significance, that on both occasions the "orange" specimens were quite small being no larger than 6 mm in length. I could not detect any colouration other than white on the mantle pustules.
(All these photos although taken at different times were at the same site within 100 metres.)
Yet more grist for the mill Bill?
Kind regards,
David Mullins.
marineimages@hotmail.com
Mullins, D.A., 2008 (Nov 3)
Chromodoris conchyliata
in S.E. Qld.
[Message in] Sea Slug Forum.
Australian Museum, Sydney. Available from http://www.seaslugforum.net/find/22003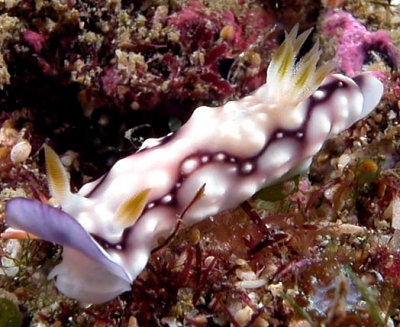 Thanks David,
If my profession was just matching colour photos with other colour photos I doubt if I could be bothered. It's the puzzles like this which make it interesting. I first came across the 'C. conchyliolata colour form" when I was in East Africa and labelled it Chromodoris cf. geometrica as I considered it most probably to be a colour form of that species (Rudman, 1973). Nathalie Yonow some years later considered to be a distinct species, C. conchyliolata, but the only real differences were its orange-red gills and rhinophores and the tendency for the opaque white pustules on the mantle to be yellowish. I can't say I have been that convinced with it being distinct, but as the gill and rhinophore colour is quite a good character in species of Chromodoris, I have remained fairly neutral.
As you mention, photos on the Forum suggest that in the western Indian Ocean the 'C. conchyliolata colour form" is most common, although some of the 'C. geometrica colour form' have been reported [messages #15244; #2570], while in the western Pacific the opposite occurs [message #11597 ].
Interestingly, in some, but not all C. conchyliolata, there is also a borad ornage band on the underside of the anterior mantle, as well as the purple. If my growing feeling that there is only one species is correct, perhaps the orange is a dominant colour pigment which only presents itself  in certain conditions, much like the way black lines in other chromodorids can sometimes be partly orange. The egg ribbon of both looks identical, and they both seem to feed on the sponge Chelonaplysilla violacea. I guess we just have to continue building up information. I certainly have seen juveniles with green rhinophores, and some of the large animals have orange-red ones so I don't thinnk there can be a direct relationship between size and rhinophore. Perhaps someone will find the two colour forms mating - which won't convince everyone it seems - but would be quite a powerful indication.
Rudman, W.B. (1973a) Chromodorid opisthobranch Mollusca from the Indo-West Pacific. Zoological Journal of the Linnean Society 52(3): 175-199.

Yonow, N. (1984). Doridacean nudibranchs from Sri Lanka, with descriptions of four new species. The Veliger, 26(4): 214-228.

Best wishes,
Bill Rudman
Rudman, W.B., 2008 (Nov 3). Comment on
Chromodoris conchyliata
in S.E. Qld by David Mullins.
[Message in] Sea Slug Forum.
Australian Museum, Sydney. Available from http://www.seaslugforum.net/find/22003
---
Factsheet