August 27, 2009
From: Lureen Ferretti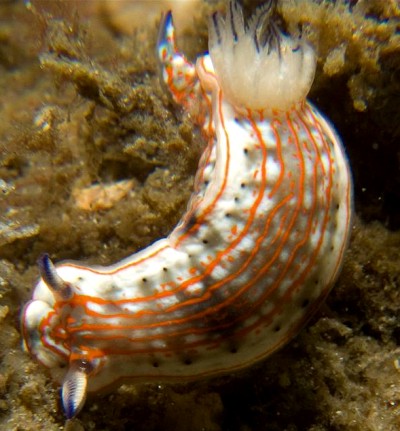 Concerning message #22470:
Hi Bill,

My name is Lureen Ferretti, I dive with Anne Dupont at Lake Worth Lagoon/Phil Foster Park/Blue Heron Bridge - whatever you'd like to call it. :o)

I emailed her my finds for the weekend and she told me this guy is an unidentified nudi. Is that possible ? Have I found a new one ? That is SO exciting. As I'm sure you can tell, I'm still an aspiring photographer but I've attached the 3 best photos I have of this guy. It looks like the yellow-streaked sea goddess, only it has orange streaks.

If you need additional info or more pics, please let me know.
Locality: Lake Worth Lagoon, 20 feet, Florida, United States, Atlantic Ocean, 23 August 2009, rubbly bottom. Length: 1 inch. Photographer: Lureen Ferretti.
Lureen Ferretti.
enchantedpath@comcast.net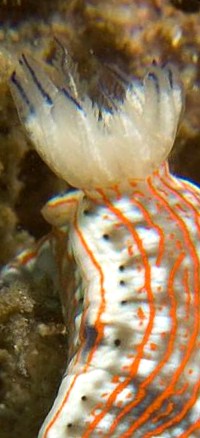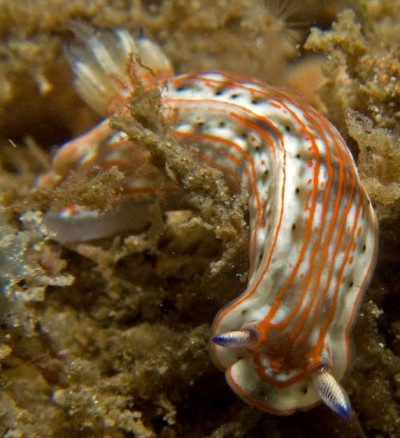 Ferretti, L., 2009 (Aug 27) A new chromodorid from the Caribbean?.
[Message in] Sea Slug Forum.
Australian Museum, Sydney. Available from http://www.seaslugforum.net/find/22617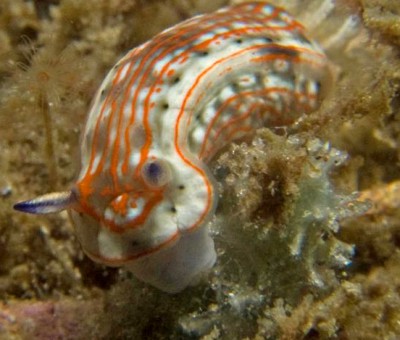 Dear Lureen,
This is an interesting find. From the sponge it is feeding on - a species of Dysidea - and its general shape, I'm pretty sure it is a species of Hypselodoris, and it certainly doesn't appear to fit any named species. On looking through Caribbean Sea Slugs it would appear to be a colour form of the species they call Hypselodoris sp. 3 [pp 164-5]. However, as I discuss in response to Linda's interesting finds in the Chromodoris binza- C. neona group [message #22560], we still have a lot to learn about the Caribbean fauna, and I don't think it helps at this stage to consider or name every new colour pattern as a new species.
Your animal seems to be the same as Ellen Muller's animals from Bonaire [message #21716] which I am calling Hypselodoris bayeri, and Phillip Gillette's photos [message #13022 ] give a good example showing the blue & yellow lines breaking up into spots in different animals. I note that in Caribbean Sea Slugs, H. bayeri is used for the lined animals and H. marci for the spotted forms.
Ones thing they all have in common is that half way down each side of the mantle there is a darker patch and often a darker orange line at the mantle edge. In this way they all have similarities to H. ruthae. The one difference with H. ruthae, is that in that species only the inner edge of the gills is lined with purple. In your animal there is a purple line only at the tip of each gill, but I can't see if it is on the outer edge, inner edge or both. In Ellen Muller's animals both the inner and outer edge of the upper half of the gills is lined purple while in Philip Gillette's both edges of the whole gill are lined. In Caribbean Sea Slugs a distinction is made between purple lines on the rhinophores and purple rhinophores but it seems that in some animals the lines diffuse to cover much of the rhinophore, so this dustinction may not be valid. I can't really say how many species there are at present in this yellow/orange-lined group. What makes it more difficult is that we know that this family is well known for having species mimicking each other in colour pattern.
Ellen Muller has a good photo of the egg ribbon of her colour 'form' and it seems to be the same as that in Caribbean Sea Slugs for their Hypselodoris sp. 3. It would be nice to get photos of egg ribbons from some of the other colour 'forms'. If they are markedly different we would at least know there is more than one species involved.
In short, I don't know if yours is an unnamed species, but whatever it is, it is one more piece of the jig saw puzzle.
Valdes, A., Hamann, J., Behrens, D.W. & DuPont, A. 2006. Caribbean Sea Slugs. Sea Challengers. 
Best wishes,
Bill Rudman
Rudman, W.B., 2009 (Aug 27). Comment on A new chromodorid from the Caribbean? by Lureen Ferretti.
[Message in] Sea Slug Forum.
Australian Museum, Sydney. Available from http://www.seaslugforum.net/find/22617
---
Factsheet