December 2, 2009
From: Ian Smith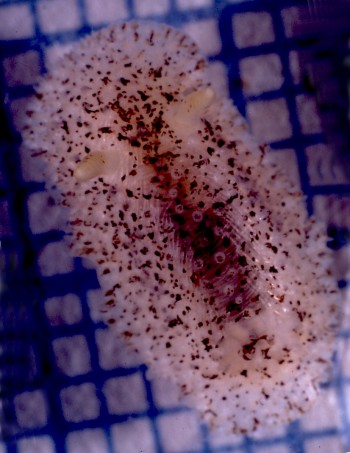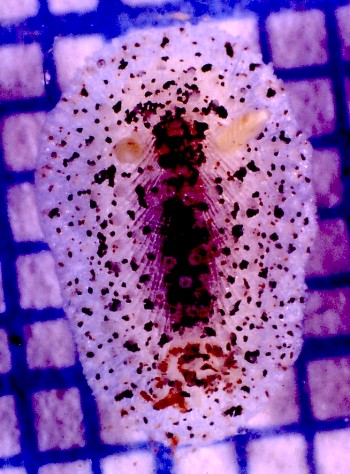 Dear Bill
Here are three images from Orkney that I am uncertain about. When found, I thought they were a pale form of Onchidoris sparsa, but I now have doubts as they appear so different from the specimen in my "typical O. sparsa" message [#22870].

I wonder if they might be the form of O. depressa with purple-brown spots instead of the usual orange brown, mentioned by Alder & Hancock and Thompson & Brown?

My concerns are:

1. "Glistening spicules" are clearly visible on these specimens, as described for O. depressa by Thompson & Brown, but not on my typical O. sparsa image.

2. Tubercles are difficult to discern in my pictures, but I think soft long tubercles (as described by A & H and T & B for O. depressa) show against the blue grid lines on the left-hand edge of the 10 mm specimen, about 3 mm from the posterior [upper photo].
Both species have tubercles with dark tips (Thompson & Brown); they show best over the dark gut in these photos and in my typical O. sparsa image where, seen from directly above, they appear as pale discs with very dark centres.
O. sparsa's "dorsum bears numerous small, rounded tubercles which often have a basal ring of dark pigment" (Thompson & Brown). The dark ring can be seen on my typical sparsa image, but not on these.

3. On O. sparsa "The pigmentation of the pallial epithelium around the rhinophores is usually different from the remainder, sometimes darker, more usually paler, and conspicuous pallial tubercles may arise from such areas, which may not be bilaterally symmetrical" (Farran,1903 in Thompson and Brown). All these features can be seen in my typical O. sparsa image, but none in these pictures.

I would be pleased to have the opinion of any other forum member with experience of these species.

Locality: Scapa Flow, Orkney, intertidal, Scotland, U.K., North Atlantic, 29 March 1975, Sheltered rocky shore. Length: 6 mm and 10 mm. Photographer: Ian F. Smith.
Alder,J. and Hancock, A. 1845-1855, A monograph of the British nudibranchiate Mollusca parts 1-7, London, Ray Society
Farran, G.P. 1903. The nudibranchiate molluscs of Ballynakill and Boffin harbours, Co. Galway. Rep. Sea and Island Fish. Ireland (1901) part 2, app. viii: 123-132.
Thompson, T.E. and Brown, G.H. (1976) British Opisthobranch Molluscs. Linnean Society of London / Academic Press
Thompson, T.E. and Brown, G.H. (1984) Biology of Opisthobranch Molluscs Vol 2. Ray Society, London .
Best wishes
Ian
ifsmith@bethere.co.uk
Smith, I. F., 2009 (Dec 2) Unknown
Onchidoris
from Scapa Flow, Scotland.
[Message in] Sea Slug Forum.
Australian Museum, Sydney. Available from http://www.seaslugforum.net/find/22871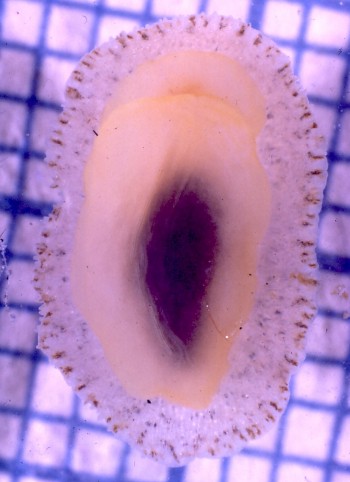 Thanks Ian,
This definitely requires some local knowledge. Thompson & Brown illustrate a similar looking species they identify as O. oblonga, but perhaps Greg or Bernard Picton could help us out

Best wishes,
Bill Rudman
Rudman, W.B., 2009 (Dec 2). Comment on Unknown
Onchidoris
from Scapa Flow, Scotland by Ian Smith.
[Message in] Sea Slug Forum.
Australian Museum, Sydney. Available from http://www.seaslugforum.net/find/22871