July 23, 2000
From: Mary Jane Adams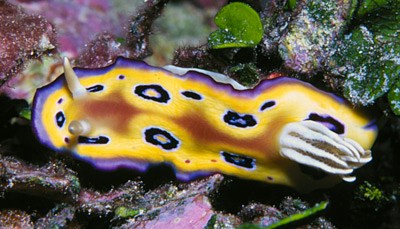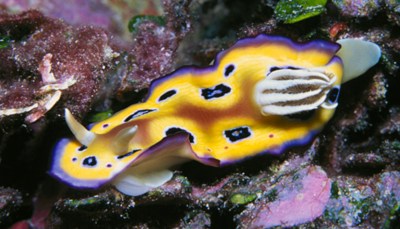 Hi Bill,
The New England Aquarium-Nai'a expedition to the Phoenix Islands was a huge success. I was thrilled to be in the first group of scuba divers to visit these remote, uninhabited islands.
[The Phoenix Ids are in the central Pacific, approx 1000k north of Samoa]
The reefs are covered with hard corals down to 30 meters with some gorgonian fans and wire corals below this depth. The coral is in pristine condition with very little bleaching. We saw a wide variety of reef fish, schooling fish, numerous reef sharks, rays and turtles. The invertebrate life was less prolific. I only saw four slugs in 40 dives. These included one Elysia ornata and one aeolid, each about 1 cm long; one chromodorid and one phyllidid. The chromodorid looks like a typical Chromodoris leopardus. I found it crawling over rubble and Halimeda at 25 meters on the lee side of Nikumaroro (Gardner) Island on June 6, 2000. It was 48 mm long. It appears to have a bite out of the left side of it's mantle (upper photo) and to be grazing(lower photo).
I have sent the one phyllidid as a separate message.
Thanks!
Mary Jane
mjadams@earthlink.net
Adams, M.J., 2000 (Jul 23)
'Glossodoris ransoni'
from Phoenix Ids.
[Message in] Sea Slug Forum.
Australian Museum, Sydney. Available from http://www.seaslugforum.net/find/2761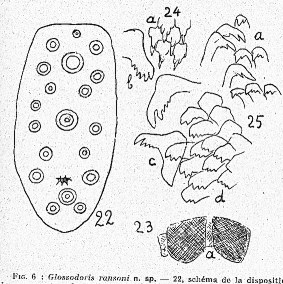 Dear Mary Jane,
Your visit sounds very exciting and although your were a little bit low on nudibranch numbers it is definitely a case of quality rather than quantity.
Although your chromodorid looks like C. leopardus I am pretty sure it is a colour form of Chromodoris kuniei. The three shades of purple at the mantle edge are typical of that species, whereas in C. leopardus there isa single narrow purple edge. Another interesting difference is that in C. kuniei the whole of the mantle edge is raised and lowered simultaneously whereas in C. leopardus only the anterior end is 'flapped'. From your upper photo it appears all the mantle is being raised. I agree that the purple rings, rather than spots are closer to C. leopardus but in that species the markings are brown and not outlined with white as in your animal.
When I reviewed C. kuniei I considered another species, Glossodoris ransoni Pruvot-Fol, 1954, was almost certainly a colour form of C. kuniei, although like your animals it had rings rather than spots (Rudman, 1987). I have added Pruvot-Fol's sketches alomgside. It was described from a preserved animal and was from Hikuera, Tuamotu Archipelago, which like the Phoenix Ids is quite a distance east in the Pacific. I am sure your animal is the same colour form and as far as I know, the first colour photo of it. It is indeed an interesting find. One difference I can see in your photos from typical C. kuniei is a lack of spots on the foot.
Rferences:
• Pruvot-Fol, A. Etude d'une petit collection d'opisthobranches d'Oceanie francaise Journal de Conchyliologie, 94(1): 3-30.
• Rudman, W.B. (1987) The Chromodorididae (Opisthobranchia: Mollusca) of the Indo-West Pacific: Chromodoris epicuria, C. aureopurpurea, C. annulata, C. coi and Risbecia tryoni colour groups. Zoological Journal of the Linnean Society, 90: 305-407.
Best wishes,
Bill Rudman
Rudman, W.B., 2000 (Jul 23). Comment on
'Glossodoris ransoni'
from Phoenix Ids by Mary Jane Adams.
[Message in] Sea Slug Forum.
Australian Museum, Sydney. Available from http://www.seaslugforum.net/find/2761
---
Factsheet