September 1, 2000
From: Clinton Bauder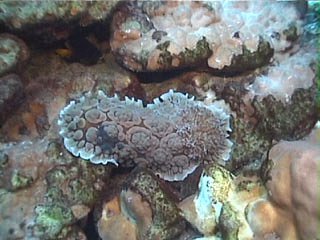 Bill,
Interesting that Dendrodoris tuberculosa should come up. I think I saw this slug at Cocos Island (Costa Rica - East Pacific) two years ago. Several experts looked at my images and concluded that it probably was Dendrodoris tuberculosa but that nobody had ever heard of it being reported from anywhere near that area.
This was a very large slug - at least 250mm, probably larger. Note the damselfish in the upper left. I have another image somewhere of a human hand and arm next to the slug but I seem to have misplaced that file. Unfortunately this is the best photo I've got. It's a still frame taken from video. I was doing a safety stop when the divemaster started banging on his tank. I went back down to 50 feet where the slug was and took about 30 seconds of video. Then, realizing that I didn't have much air left I bailed. I've since regretted not handing the camera off to the DM...
Clinton
www.metridium.com [Metridium Fields]
gecko1@apple.com
Dear Clinton,
This is a very interesting find. It would have been interesting if it was Dendrodoris tuberculosa, but I think it is another Indo-West Pacific species, Dendrodoris carbunculosa, which is equally interesting. I don't know of it being recorded from the eastern Pacific before.
It has the characteristic ring of small tubercles around each large tubercle, and the pale border is almost identical to Clay Carlson's photos from Guam.
Another 'species' which may be worth considering as part of the deal is Dendrodoris warta Marcus & Gallagher, 1976. It was described from west Florida, which is of course on the other side of the isthmus, but it wouldn't be the first species to be found on both sides. It was described as having a dark brown background with tan to pinky-beige variably sized tubercles all over the mantle. . Rhinophores with white lamellae and tips. Underside of mantle uniformly lighter than the dorsal surface. Egg ribbon a ruffled orange spiral. Interestingly the animals found were on oysters (Crassostrea) feeding on an orange encrusting sponge. Looking at the black & white photos in the description the tubercles seem somewhat more crowded and the tubercles a bit different but they seem to have a central 'nipple' surrounded by a ring of smaller tubercles. Up tp 12 cm long alive.[Marcus, Ev & Gallagher, S.B. (1976) A new species of Dendrodoris from Florida. The Veliger, 18(4): 353-356.]
Externally your animal looks identical to D. carbunculosa. Whether D. warta is a synonym or not will need a closer look, but it is worth keeping in mind.
Best wishes,
Bill Rudman.
Rudman, W.B., 2000 (Sep 1). Comment on
Dendrodoris carbunculosa
from East Pacific by Clinton Bauder.
[Message in] Sea Slug Forum.
Australian Museum, Sydney. Available from http://www.seaslugforum.net/find/2954
---
Factsheet