September 23, 2001
From: Anne DuPont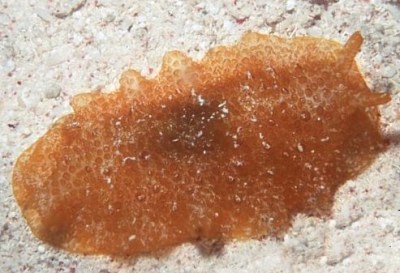 Hi Bill,
How are you and things at the museum?

In July of this year I was in the Cayman Islands, British West Indies, and photographed what I think was Pleurobranchus areolatus. It was orange, about 2 inches long, and crawling in the sand in about 35 feet of water. Can you confirm it's identity? Nearby I found a tiny white critter which was about one-half inch long. Is it a baby Pleurobranchus areolatus? Or something else?

Thank you again for your time and for the Forum.
Anne DuPont
Delray Beach, Florida, USA
akdupont@bellsouth.net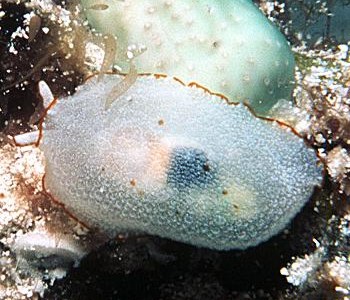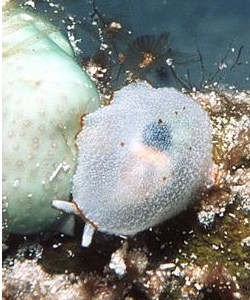 DuPont, A., 2001 (Sep 23)
Pleurobranchus atlanticus
from the West Indies.
[Message in] Sea Slug Forum.
Australian Museum, Sydney. Available from http://www.seaslugforum.net/find/5301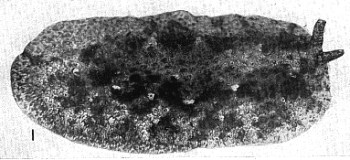 PHOTO: Pleurobranchus atlanticus. Photo by F.M.Bayer from original description (Abbott, 1949 - Pl.5. fig.1).
Dear Anne,
Thanks for your interesting photos. Although the white and brown animals look superficially quite different, the relatively small papillae and the lack of a permanent rhinophoral notch at the anterior end of the mantle suggest that the white animals are possibly juveniles of the brown species. My photos of Pleurobranchus peroni show a very similar colour change from juveniles to adults. But what is your species? I am sure it is the same as the animal from Colombia I have tentatively called P. cf. albiguttatus and which Humann identified as P. areolatus.
As I have said before, most reports on pleurobranchs from the western Atlantic have been based on preserved animals so it is difficult to know how many species there are and to identify living animals. Most authors seem to identify all Pleurobranchus they find in the Caribbean with Pleurobranchus areolatus, but that species was ill-described from preserved material. From my reading of the literature, P. areolatus has relatively large light brown 'warts' or polygonal tubercles, the bases outlined with darker brown. The anterior mantle has a permanent notch for the rhinophores. I would think that P. crossei Vayssiere, 1896 and Susania gardineri White 1952 are synonyms of P. areolatus.
As discussed elsewhere on the Forum it is also possible that P. testudinarius occurs in the Caribbean, but it would be easily recognisable from the elongate dorsal papillae.
Your animal does not fit either of those species. I think it is Pleurobranchus atlanticus Abbott, 1949 which was described from Florida. Marcus & Marcus (1967) include P. atlanticus in their synonymy of P. areolatus but I think they were mistaken. The original description of P. atlanticus includes a black & white photo of the living animal, which clearly shows it is different from what I think is P. areolatus. The tubercles are small and rounded and white streaks are clearly visible in their black & white photo, giving the appearance of white pointed papillae. They also say 'the size and depth of the [rhinophoral] sinus can be changed at will ... '
I am sure that your photos, and those from Colombia are Pleurobranchus atlanticus. Another species from Florida, Pleurobranchus reesi White 1952, is almost certainly a synonym of P. atlanticus. The living animal was described as 'reddish brown in living condition. In preservation ...... light brown in colour with dark sepia markings... evenly covered with soft rectangular papillae. Mantle entire .... not cleft in any way.'
I am not sure whether Pleurobranchus atlanticus is identical to the Indo-West Pacific species P. albiguttatus or not. It certainly looks identical externally. Until the anatomy of the two species can be compared I guess it is best to call your animal P. atlanticus. To my knowledge this is the first time Tucker Abbott's species, P. atlanticus, has been recognised as a distinct species.
Thanks again for the interesting photos. They made me look a bit deeper into the literature and hopefully sort out this problem. If you have photos of any other pleurobranchs from the western Atlantic I would be interested in seeing them. I would be interested in any comments on my suggested identification.
References:
• Abbott, R.T. (1949): A new Florida species of the Tectibranch genus Pleurobranchus. The Nautilus, 62(3): 73-78.
• Mörch, O.A.L. (1863) Contributions à la Faune malacologique des Antilles danoises. Journal de Conchyliologie, 11: 21-43.
• White, K.M. (1952) On a collection of molluscs from Dry Tortugas, Florida. Proceedings of the Malacological Society of London, 29: 106-120, Pl.6.
Best wishes,
Bill Rudman
Rudman, W.B., 2001 (Sep 23). Comment on
Pleurobranchus atlanticus
from the West Indies by Anne DuPont.
[Message in] Sea Slug Forum.
Australian Museum, Sydney. Available from http://www.seaslugforum.net/find/5301
---
Factsheet