May 3, 2002
From: Vincent Prasil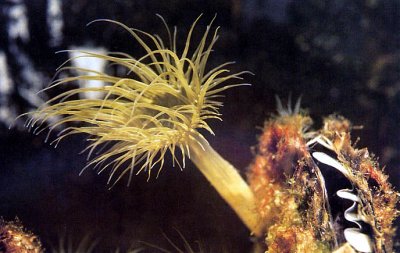 Hello,
I am biologist in Tahiti, where we have a very big general problem of infestation of Aiptasia sp. Black-lipped pearl oysters are grown in clear water, where there is no predator like fish (Chaetodon) to eat Aiptasia. So the anemones entirely cover the black lip pearl oysters, so you can't see the bivalve. The problem began in 1994. We are thinking in importing Berghia verrucicornis (which is not present in French Polynesia).
The question is : does Berghia verrucicornis eat something other than Aiptasia (like other anemones)? I would also like any information about the reproduction of Berghia verrucicornis, and if there is an aquatic planktonic larval stage/step.
We are searching for biological control of Aiptasia sp. in French Polynesia. I would be grateful for your opinion on how to limit Aiptasia population in open water conditions.
Thanks
Vincent Prasil
vincent.prasil@perli.gov.pf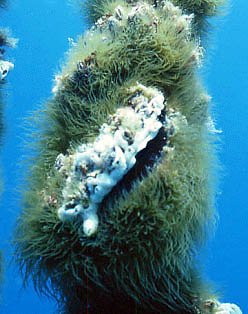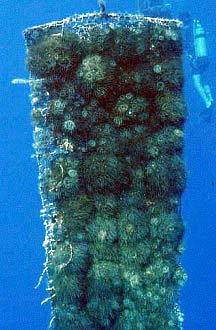 Prasil, V., 2002 (May 3)
Aiptasia
control in open water conditions.
[Message in] Sea Slug Forum.
Australian Museum, Sydney. Available from http://www.seaslugforum.net/find/6810
Dear Vincent,
Thanks for your message. I was reading recently that cultured pearls from Tahitian black-lipped pearl oysters now represent 30% of world production.
Firstly about Berghia verrucicornis. There is in my mind considerable doubt that the animal sold in the USA for control of Aiptasia in aquaria is really Berghia verrucicornis. However I will continue to call it that for simplicity. If you look at the other messages on this page, and also on the page I have for messages about Aiptasia control in aquaria, you will find links to the sort of information your are interested in. It has a non-feeding but planktonic larval stage [lecithotrophic] so the chances of restricting it to an aquaculture site would be slim. In aquaria it seems to be only interested in Aiptasia but I know of no real study of the species in the wild to be able to comfidently say it will only eat Aiptasia.
Mnay mistakes around the world have made 'Biological control' a very frightening concept as unfortunately it has often ended in disaster. You should be aware that one of the worst disasters concerns land snails in French Polynesia, where a small carnivorous landsnail from Florida, Euglandina, was introduced to control another introduction, the Giant African Landsnail, Achatina. Instead of controlling Achatina it ate a unique radiation of endemic landsnails of the genus Partula to extinction. I understand it has recently been introduced into New Caledonia despite strong protests from many biologists. It will now undoubtedly endanger the endemic fauna of New Caledonia. I would strongly advise against introducing this nudibranch into the Pacific. There is no way it could be controlled if it became a pest.
Perhaps there is some other way? If the oysters are on artificial plates, ropes etc, where is the infection occurring? If it is before they are transferred to the open water then perhaps there is some way of cleaning them. The other possibility would be to rely on the fact that the oysters can close up and survive some time out of water. Perhaps it is possible to kill the anemones by removing the plates from the water for a period of time - or even physical removal by scrubbing?
The other question is whether Aiptasia is a natural part of the local fauna. If so, perhaps you need to investigate why they grow out of control at the aquaculture site. Perhaps what needs to change is the methodology. Perhaps some artificial habitat to attract anemone-eating fish would be an answer?
All I can say is that the thought of introducing an animal we know so little about to the Pacific fills me with dread. In Australia, the government research organisation CSIRO, has a division solely working on biological control. Before an organism is introduced into Australia to control some introduced pest, a research laboratory is set up in the country of origin of the control agent and many years investigation conducted before any trials are conducted in Australia. Biological control is a dangerous weapon unless the organisms involved are well understood - and in this case they clearly are not.
Best wishes,
Bill Rudman
Rudman, W.B., 2002 (May 3). Comment on
Aiptasia
control in open water conditions by Vincent Prasil.
[Message in] Sea Slug Forum.
Australian Museum, Sydney. Available from http://www.seaslugforum.net/find/6810
---
Factsheet