July 7, 2002
From: Bill Rudman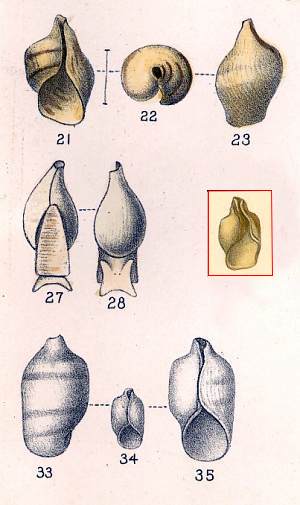 Volvatella vigourouxi is a good example to illustrate why we have difficulty in giving a name to some species. The identity of the type species of this genus, Volvatella fragilis Pease, (1860a: 20-1., 1868: 73, Pl.7, fig.4), originally described from Hawaii, remains in doubt. Unfortunately, although the genus appears identifiable from the original description, no subsequent author appears able to identify Pease's name with any species known from Hawaii (Evans, 1950., Kay, 1979: 449).
I have included a scan of a section of Plate 42 from Tryon (1893) to illustrate some of the early names. I have also include in a red box Montrouzier's illustration of the shell of V. vigourouxi for comparison. Figs 27-28 show Pease's indeterminate illustrations of Volvatella fragilis, which have far too little detail for species identification. On the other hand Figs 21-23 show the shell of Volvatella pyriformis Pease, 1868 which is almost certainly identical with Volvatella vigourouxi. Since Pease presumably considered his two species to be distinct then it is most unlikely that Volvatella fragilis could be a senior synonym of V. vigourouxi as some authors have previously suggested. Another species, Volvatella cincta Nevill & Nevill, 1869 is illustrated in Figs 33-35. This species from Ceylon is also most probably a synonym of V. vigourouxi, which would indicate that it has a wide distribution in the Indian and Pacific Oceans.
I have also included photos of some old shells from New Caledonia in the Australian Museum collection. They were probably acquired in the 1860s. They show the shape and fragility of the shell.
Lower Left: AM C25547 shell length 18.1mm 'Nouméa, purch: J. Brazier, 5 specimens'.
Lower Right: AM C56612 shell length 18.7mm 'New Caledonia, (no other data)'. Scans by Alison Miller.
References:
• Evans, T.J. (1950) A review of Pease's genus Volvatella, together with a preliminary report on a new saccoglossan genus. Proceedings of the Malacological Society, 28: 102-106.
• Kay, E.A. (1979) Hawaiian Marine Shells. Bernice P. Bishop Museum Special Publication 64(4), (Honolulu)
• Nevill, G. & Nevill, H. (1869) On some new marine gastropoda from the southern province of Ceylon. Journal of the Asiatic Society of Bengal, 38: 65-69.
• Pease, W.H. (1860) Descriptions of new species of Mollusca from the Sandwich Islands. Proceedings of the Zoological Society of London, 28: 18-36.
• Pease, W.H. (1868) Descriptions of marine Gasteropodae, inhabiting Polynesia. Am. J. Conch., 4(2): 71-80. (Pls. 7-10)
• Tryon, G.W. 1893. IN H.A.Pilsbry, Manual of Conchology; Structural and Systematic with Illustrations of the Species. VOL. 15. Polyplacophora, Acanthochitidae, Cryptoplacidae and Appendix. (pp 1-133). Tectibranchiata, 1893 (pp 134-436).
Cheers,
Bill Rudman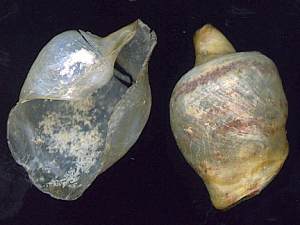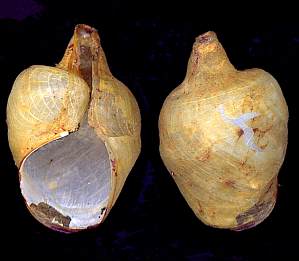 Rudman, W.B., 2002 (Jul 7)
Volvatella vigourouxi
and possible synonyms.
[Message in] Sea Slug Forum.
Australian Museum, Sydney. Available from http://www.seaslugforum.net/find/7445
---
Factsheet