July 23, 2002
From: Jun Imamoto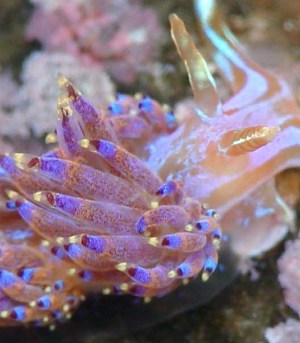 Dear Bill.
I have problems identifying this sea slug. It is being called Setoeolis inconspicua (Baba, 1938)in Japan, but I can't find any information about that species. However, it seems to look like Godiva quadricolor (Barnard, 1927) as well.
Because there is quite a lot of variation I have sent photos of three animals in separate messages. I would be very happy if I could hear your comment. [see also message 2, message 3]
Data:
Echizen-coast Wakasa Bay, Japan, approx 17mm long, depth: 4m, 10 July 2002.
Best Regards,
Jun Imamoto
imamoto@wips.co.jp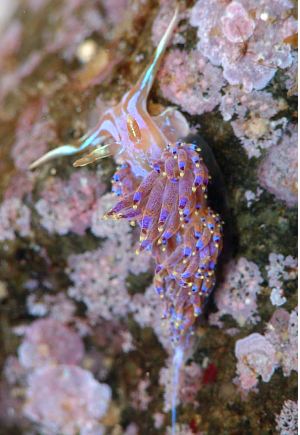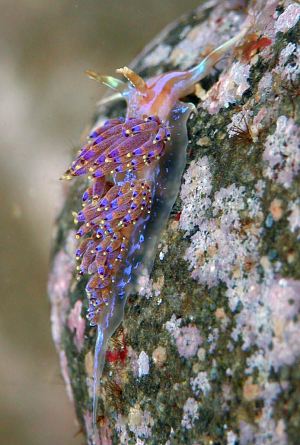 Imamoto, J., 2002 (Jul 23)
Setoeolis inconspicua
? from Japan (1).
[Message in] Sea Slug Forum.
Australian Museum, Sydney. Available from http://www.seaslugforum.net/find/7566
Dear Jun,
Thanks for these detailed photos. Setoeolis inconspicua is not well illustrated in the literature, and the only detailed description is Baba's original description (1938) which did not include a colour illustration. Your photos are a valuable contribution to our knowledge of the species. Although it appears quite variable in colour, the colour bands on the cerata seem to be fairly constant, with a subapical yellow band, below which is a transparent region through which the dark brown or reddish brown tip of the digestive gland duct can be seen, then below this a blue or bluish-purple band. Below this band the cerata wall can be transparent, or have scattered white patches or be almost completely covered in white dusting.
Is it the same as the South African Godiva quadricolor? It certainly has similarities in colour but there are some differences in ceratal colour. In Gosliner, T. (1987) Nudibranchs of Southern Africa the cerata have two or three yellow bands separated by bluish bands. Between these bands the reddish brown digestive gland duct can be seen through the transparent ceratal wall. In Valda Fraser's photos there is only one yellow band on the cerata but it is lower than in S. inconspicua and has a blue band above it, rather than below it. However there are anatomical differences, the simplest of these being the presence of a penial hook in G. quadricolor which is absent in S. inconspicua. Baba used this character to erect the genus Setoeolis for S. inconspicua. The last comprehensive review of the Glaucidae (Miller, 1974) accepted both Godiva and Setoeolis as good genera so until more studies are undertaken I suggest we continue to accept this distinction.
• Miller, M.C. (1974) Aeolid nudibranchs (Gastropoda: Opisthobranchia) of the family Glaucidae from New Zealand waters. Zoological Journal of the Linnean Society, 54(1): 31-61.
Best wishes,
Bill Rudman
Rudman, W.B., 2002 (Jul 23). Comment on
Setoeolis inconspicua
? from Japan (1) by Jun Imamoto.
[Message in] Sea Slug Forum.
Australian Museum, Sydney. Available from http://www.seaslugforum.net/find/7566
---
Factsheet