July 28, 2002
From: Jim Anderson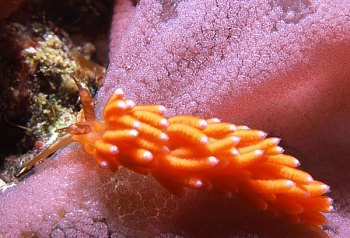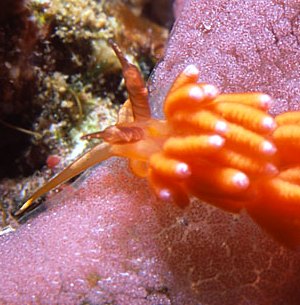 Dear Dr, Rudman,
The attached image shows? eating the egg spiral of Hexabranchus sanguineus This animal and two others were found in one of two adjacent egg masses found at 12.6 metres during a day dive. The second egg mass was unaffected. I have tried searching the forum but am unable to locate any identification info.
The slugs were approx 15mm long.
Dive site: DJ Point, N E Sulawesi, Indonesia
Date 13 July 2002.
Water temp: 29 deg C.
Thanks,
Jim A
jander4454@aol.com
Anderson, J., 2002 (Jul 28)
Favorinus
eating
Hexabranchus
eggs.
[Message in] Sea Slug Forum.
Australian Museum, Sydney. Available from http://www.seaslugforum.net/find/7615
Dear Jim,
Thanks for these photo which may be a clue to a longterm identification puzzle on the Forum. Superficially your animal looks very like Favorinus tsuruganus, which is reported to feed on Hexabranchus eggs a number of times on the Forum. However it differs in a number of features. Although they both have yellow digestive gland ducts in the cerata, in F. tsuruganus the body and the oral tentacles are opaque white and there is a black tip to the cerata, which is unlikely to be food related. Also the rhinophores seem to have four or more leaflets, rather than the three 'cup-shaped swellings' found in F. tsuruganus. In your animal the oral tentacles and the body are translucent orange and the tips of the cerata are white, not black. This is the same species as an animal from Okinawa which was the subject of a very early message on the Forum from Bob Bolland which I called Favorinus sp. 2. The only difference is that in Bob's photo the rhinophres are very black but in yours they are orange with black 'dusting'. Interestingly Bob reports in his message that the rhinophores changed colour from orange to black between the time the animal was collected and when it was photographed. One species with the same shaped rhinophores is F. mirabilis and although the digestive gland colour is very variable, all animals I have seen have a reddish purple spot just down from the tip of each ceras. In the closeup of your photo these seems to be a spot in just the same space. My guess is that this is a colour form of F. mirabilis. If you could check your photos to see if you have a clearer photo of this spot I would be grateful.
Another animal which is probably the same is in Lindsay Warren's message from Madagascar. It differs in not having a white ceratal tip. However there certainly seems to be a trace of a light coloured region at the tip, perhaps obscured by skin pigmentation. All these problematic animals were found feeding on Hexabranchus eggs. Whether or not they are F. mirabilis, I am pretty sure that Favorinus sp. 2 and Favorinus sp. 6 are the same species, and probably F. mirabilis. I have therefore amalgamated them on this Favorinus cf. mirabilis Page.
Best wishes,
Bill Rudman
Rudman, W.B., 2002 (Jul 28). Comment on
Favorinus
eating
Hexabranchus
eggs by Jim Anderson.
[Message in] Sea Slug Forum.
Australian Museum, Sydney. Available from http://www.seaslugforum.net/find/7615
---
Factsheet