October 3, 2002
From: Barbara Gibson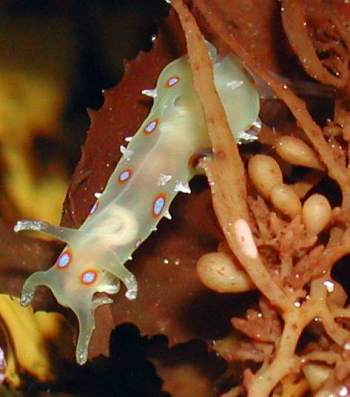 Dear Dr. Rudman,
Would you please help us, the teachers and students of the Sri Aurobindo International Center of Education, Aquarium section, to identify this beautiful little sea slug. It was captured in the brown sea weed at the shore line on the last week of August 20O2. Along the Pondicherry coast, Bay of Bengal, India. Any information that you could give us on it would be greatly appreciated. Can you also tell us what that white half moon is inside its body?
The photo was taken by a former student, Filidauro Schiavina Lemaire.
Thank you,
Barbara Gibson
barbarag@satyam.net.in
Gibson, B., 2002 (Oct 3)
Stylocheilus longicauda
from India.
[Message in] Sea Slug Forum.
Australian Museum, Sydney. Available from http://www.seaslugforum.net/find/8106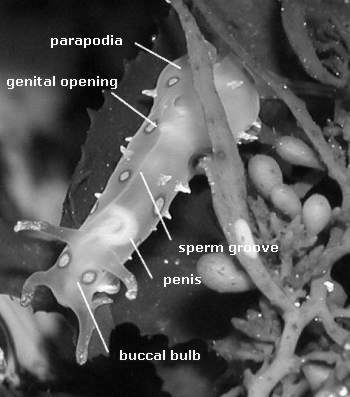 Dear Barbara,
This is an interesting Sea Hare called Stylocheilus longicauda. It has a relative, Stylocheilus striatus, which is often found throughout the tropics, in huge numbers, on sand or mud, feeding on an organic layer on the surface. On the other hand, the beautiful Stylocheilus longicauda has only been reported a few times since its discovery 175 years ago. By few, I mean less than 10 times. In most cases it was found on brown sea weed, often washed up on the beach, which suggests it spends its life on floating algae in the open ocean.
The white halfmoon structure inside its body is part of the penis. Sea Hares, like all sea slugs are hermaphrodite with fully functional male and female reproductive systems. In Sea Hares the penis, which sits retracted in the body cavity when not in use, opens on the right side of head. The 'female' parts of the reproductive system lie further back in the body cavity, and there is a genital opening at the anterior end of the mantle cavity, where the parapodial flaps meet. This genital opening has three functions - during mating the partner's penis is inserted here and during egg laying the egg string is extruded through this opening. Thirdly the animal's sperm is also extruded here and travels down an external sperm grrove to the penis. I have labelled various parts in the photo alongside to help you understand its basic anatomy. I have also labelled the 'buccal bulb' which is its feeding organ, and contains the radula, a tongue-like structure covered in rows of microscopic teeth.
Have a look at the Sea Hares Page and the Stylocheilus striatus page for further general information. You will also find more information if you scroll downn the other messages on each page.
Best wishes,
Bill Rudman
Rudman, W.B., 2002 (Oct 3). Comment on
Stylocheilus longicauda
from India by Barbara Gibson .
[Message in] Sea Slug Forum.
Australian Museum, Sydney. Available from http://www.seaslugforum.net/find/8106
---
Factsheet