February 23, 2003
From: Néstor E. Ardila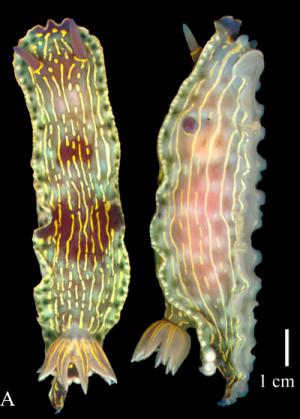 Dear Bill,
Here are some photos of a specimen of Hyoselodoris bayeri, which was collected with a bottom trawl, off Dibulla, Colombia at approx 70 m depth. It was 45 mm long alive.
I have sent photos of the radula and jaw plates in a separate message.
The colour pattern of the notum is deep blue with longitudinal yellow lines edged with black. The margin of the notum is white, containing black spots of different size and bordered by a yellow line externally. There is a yellow margin to the rhinophore pockets. The rhinophores are deep blue.
There has been a big confusion with the coloration of this species, probably because of the erroneous identification made by Thompson (1977, 1980) for material recorded from Jamaica.
Néstor E. Ardila
nardila@invemar.org.co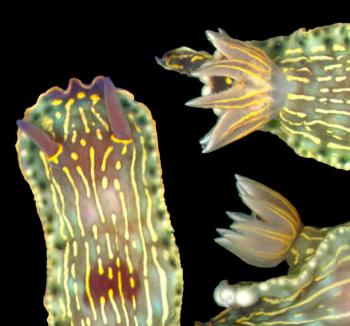 Dear Néstor,
It's good to get some more information on this group of species. I don't think the confusion surrounding this group of species can be blamed on Thompson's misidentification, which is on the Forum as Hypselodoris sp 5. The confusion is caused by the original description being based on two specimens, which in a species with a variable colour pattern is an inadequate sample. Clearly the Caribbean region has a group of similarly coloured species which are still not adequately understood.
Looking at your photos, I am now beginning to wonder whether the two animals that Marcus & Marcus had available to them when they described H. bayeri are in fact the same species. Your animal looks like Marcus & Marcus's colour plate Pl 1, fig 2, while the line drawing, Fig 76 [which was based on a colour slide of a second specimen], has a more reticulate pattern of yellow like the animal in Dave Behrens' message.
One thing that makes me wonder if there are two species is that in some photos the gills seem simple with a black or dark blue line up the outer edge, while in other photos, such as yours, the gills are really triangular in outline with the outer face being pale purple or blue and the edges bright yellow. This is not always easy to determine from slides, so I am not sure which gill type Marcus & Marcus were describing. We also don't know which of their two specimens they based their colour description on. The only way this can be sorted out is for a lot more Caribbean animals to be studied in detail.
I wouldn't be at all surprised if your animal turned out to be the one I am calling Hypselodoris sp. 4, although in most photos it seems to have a series of pale spots down the outer face of each gill. Another animal with a close similarity to your animal - including the yellow edging to the gills - is illustrated in Humann, 1999 [p. 233] as Hypselodoris acriba.

Thanks for these interesting photos. I have kept your latero-ventral photo at a larger size because it shows the arrangement of the mantle glands very well. Thanks also for the radula photos in your other message.
Best wishes,
Bill Rudman
Rudman, W.B., 2003 (Feb 23). Comment on
Hypselodoris bayeri
? from Colombia by Néstor E. Ardila .
[Message in] Sea Slug Forum.
Australian Museum, Sydney. Available from http://www.seaslugforum.net/find/9259
---
Factsheet