April 2, 2003
From: Jackie Hildering & Glen Miller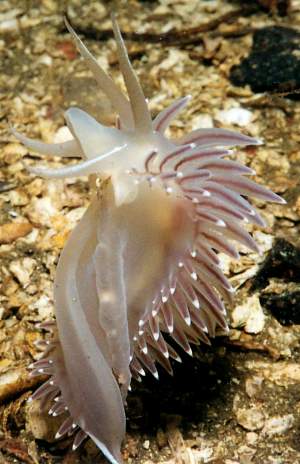 Dear Bill,
Having been blown out on multiple boat dives, we have had recent repeated dives on the Bear Cove shore dive [Feb 8th to March 29th 2003]. The abundance of Flabellina fusca has been striking and its various behaviours have now become very intriguing.
As seen in the upper image, 10s of this species are found wrapped around what may be ornate tube worms. They appear to be preying on the tube worms but loose clusters of eggs are found also found atop what we believe to be tubeworms, too.
Any insights?
Site: Bear Cove, Port Hardy, British Columbia, Canada. Depth: 30-40'. February 9th.
Photo: Glen Miller
Jackie Hildering
Glen Miller
earthent@telus.net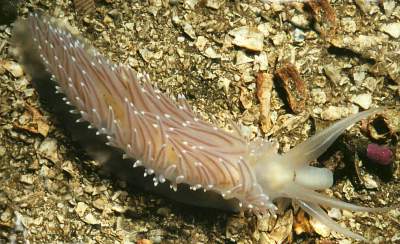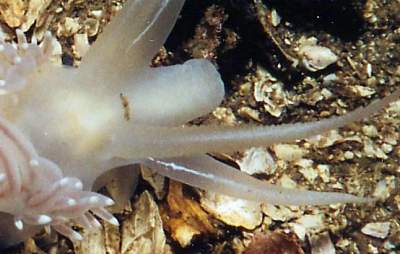 Renamed Flabellina trophina - see 18 April 2003 message.
Dear Jackie & Glen,
Thanks for the photos and the interesting observations. Perhaps Irina Roginskaya, who has studied this species in Russia, can give us her views. Waters, (1966) reports it feeding on a variety of hydroids [Obelia, Syncoryne, Bougainvillia], which is what you expect an aeolid to eat, but Roginskaya reports it being much more adventurous, feeding on other aeolids [1964 - Flabellina rufibranchialis, Cuthona sp, Hermissenda crassicornis] and the amphipod crustacea and polychaete worms [1990 - Caprella, ?Spiochaetopterus]. So it is possible that it is eating some tube worm. If you have a look at Marli's photo of egg ribbon you should be able to see if the eggs you have found on the worm tubes are the aeolid's. In your photo of it crawling on the shell sand the oral tube seems to be quite extended, suggesting it is quite interested in something in the sand - certainly not a hydroid colony. If you can catch it eating I would love to see a photo or two.
• Waters, Virginia L. 1966. Food preference and feeding behaviour of four nudibranchs. Annual Reports American Malacological Union, 1966: 63.
• Roginskaya, I. S. 1964. A large-sized nudibranch mollusc Coryphella fusca, O'Donoghue - predator of small nudibranch molluscs - Coryphella rufibranchialis Johnston and Cuthona sp. Zoologicheskii Zhurnal, 43(11): 1717-1719. [In Russian].
• Roginskaya, I. S. 1990. Data of feeding, distribution and synonymy of Coryphella trophina (Bergh, 1894) (Nudibranchia: Gastropoda), pp. 47-57, 151-152, 156. [In]: Feeding and bioenergetics of marine bottom invertebrates. Academy of Sciences of the U.S.S.R., P. P. Shirshov Institute of Oceanology, Moscow.
•Zack, S. 1975. A description and analysis of agonistic behavior patterns in an opisthobranch mollusc, Hermissenda crassicornis. Behaviour,53(3-4): 238-267.
Best wishes,
Bill Rudman
Rudman, W.B., 2003 (Apr 2). Comment on
Flabellina fusca
- behaviour by Jackie Hildering & Glen Miller .
[Message in] Sea Slug Forum.
Australian Museum, Sydney. Available from http://www.seaslugforum.net/find/9542
---
Factsheet