May 13, 2003
From: Paul Furneaux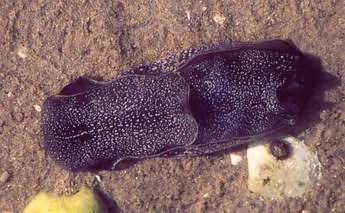 Dear Bill,
I am a high school biology teacher at Otumoetai College in Tauranga [East Coast, New Zealand] and I have a Science and Technology Fellowship for this year, in association with Waikato University and the Royal Society, to study Biodiversity in Softshores. As part of this project I have been photographing as many mudflat plants and animals as I can (with a view to making these readily available to schools etc). Recently I came across several bullomorph, sluglike animals that I had not seen here before.(I'm familiar with Haminoea zelandiae and Bulla (Quibulla), and this species is neither of these two - its shell is almost non-existent. Could it be a speckled version of Aglaja cylindrica? My main reference is Morton and Miller, The N.Z. Sea Shore and in there Aglaja is described as "jet black". I've included a couple photos, I hope that you can identify this animal for me,
Regards from,
Paul Furneaux.
P.Furneaux@xtra.co.nz
Furneaux, P., 2003 (May 13)
Philinopsis taronga
? from New Zealand.
[Message in] Sea Slug Forum.
Australian Museum, Sydney. Available from http://www.seaslugforum.net/find/9777
Dear Paul,
This is an interesting find. Firstly it isn't Melanochlamys cylindrica [Melanochlamys is correct genus for this species], which is indeed jet black. I have just prepared a Fact Sheet for that species. It is normally found on rock platforms rather than soft sediments. Your animal is indeed an aglajid and I am pretty sure it is Philinopsis taronga. When I studied these animals in New Zealand many years ago I described a species quite like yours as Philinopsis aureopunctata (Rudman, 1968), but later came to the conclusion that it was the same as the southeastern Australian species P. taronga. In the New Zealand animals the transluent spots are usually much larger than Australian animals and so the brown background colour is redued to a brown retiulate pattern. Also in the centre of each translucent patch there is an irregular yellowish spot. Your animal is much darker than the specimens I am familiar with from New Zealand and lacks the yellow spots. I have checked my old notes and see that I did find a specimen at the mouth of the Wade River, just north of Auckland,, which had many small translucent spots and no yellow pigmentation, which matches your animal quite well. I hope to be able to post a photo I have of the more common NZ form soon, but am waiting for permission from the photographer.
I would be interested to know if you have found this animal often, and if so, whether it has any colour variations? Any sign of yellow spots perhaps? Species of Philinopsis feed on other bubble shells such as Haminoea and Bulla. Often they regurgitate the empty shells after digesting the animal. If you have photos of other bubble shells you would like to share with us they would be very welcome. Cephalaspidean bubble shells don't get photographed as often as their beautiful nudibranch cousins, and when I was a student in NZ I couldn't afford a camera to photograph them myself, so its a gap on the Forum that needs filling.
Best wishes,
Bill Rudman
Rudman, W.B., 2003 (May 13). Comment on
Philinopsis taronga
? from New Zealand by Paul Furneaux.
[Message in] Sea Slug Forum.
Australian Museum, Sydney. Available from http://www.seaslugforum.net/find/9777
---
Factsheet