April 30, 2003
From: Jussi Evertsen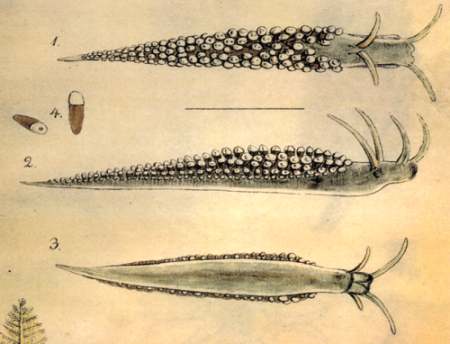 Dear Bill,
In response to Kåre's recent message, here is a scan of the original illustrations by M. Sars (1829) of Eolidia verrucosa [Plate 2, figs 1-4].
You will see that Kåre's photos very much match the original descriptions of Flabellina verrucosa; except the arrangement of the cerata which more resembles Odhner's Flabellina borealis. But Kåre's photos are Flabellina verrucosa with short cerata. The problem is that Flabellina verrucosa has a long list of synonyms, which include individuals with long and slender cerata, and in most cases it is the animals with long cerata that are illustrated on the net (as in Coryphella rufibranchialis).
Also one should be aware of Bernard Picton's Flabellina browni, which really is similar to Flabellina verrucosa with long and slender cerata, but which is differentiated on the coloration.
Confusing? It really is, and I think this group is in need of a careful revision.
• Sars, Michael. 1829. Bidrag til soedyrene naturhistorie, Pt. 1,: pp. 1-59, pls. 1-6. Bergen.
Jussi Evertsen
jussi.evertsen@vm.ntnu.no
Thanks Jussi,
I am glad to see I am not the only one confused. Certainly Kåre's photos look like Sar's illustration of Flabellina verrucosa. Alan Kuzirian (1979) has an interesting review of the long-running dispute over the question of whether Eolidia verrucosa Sars, 1829, with short crowded cerata, and Eolis rufibranchialis Johnson, 1832, with longer fewer cerata, are synonyms or not. On top of this basic question are all the later names that have been given to this species or pair of species on both sides of the Nth Atlantic. I agree that step 1 must be for someone to study the anatomy and natural history of these two 'forms' in depth, as Kuzirian did with the Nth American Atlantic species of Flabellina.
One anatomical point which seems worth following up is the shape of the anterior foot corners. In both Sars' painting and Kåre's photo the anterior corners of the foot are rounded. Although none of the photos in the Forum of the long cerata form show the anterior foot clearly, there are plenty of illustrations in the literature showing that it has distinctly angular or even tentacular foot corners [Thompson & Brown, 1984]. To me the ceratal shape and arrangement and the anterior foot corners are pretty good arguments for some separating them.
• Kuzirian, A.M. (1979) Taxonomy and biology of four New England coryphellid nudibranchs. Journal of Molluscan Studies, 45: 239-261.
Best wishes,
Bill Rudman
Rudman, W.B., 2003 (Apr 30). Comment on Re:
Flabellina
? from Norway by Jussi Evertsen.
[Message in] Sea Slug Forum.
Australian Museum, Sydney. Available from http://www.seaslugforum.net/find/9797
---
Factsheet