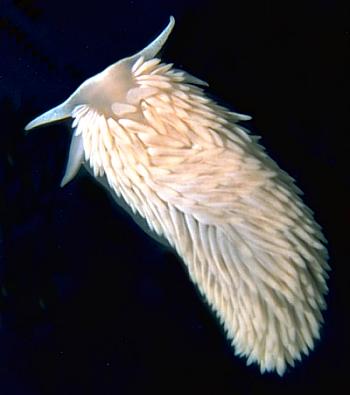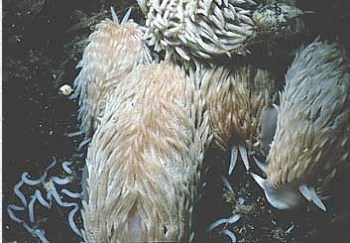 Aeolidiella drusilla
Bergh, 1900
Order: NOTASPIDEA
Suborder: AEOLIDINA
Family: Aeolidiidae

DISTRIBUTION
New Zealand, Tasmania, Victoria (south-eastern Australia)
PHOTO
Upper: Blackmans Bay, Hobart, Tasmania, Australia, October 1986. AM C151520. Photo: Bill Rudman.
Lower: Flinders Pier, Victoria, Australia, October, 1996. 10 specimens under a piece of timber on the bottom beneath the pier at 4m depth. Size range of 3 - 5cm Photo: John Chuk
RELATED TOPIC
Two species, Aeolidiella faustina and Aeolidiella drusilla, were first described from Cook Strait, New Zealand (Bergh, 1900). To my knowledge A. drusilla has never been reported again but A. faustina has been reported from northern Tasmania, Australia (Bergh, 1904) and Victoria, Australia where Burn (1962) recorded it as "very common under stones at or near low tide level". It has subsequently been reported as rare in the North Island of New Zealand (Powell, 1979). I have not seen a published photo of the living animal, although Powell publishes a colour painting from Auckland, NZ, of an animal he identifies as A. faustina which looks similar to the photo published here from Tasmania. As I discuss below there are apparent radula differences between the two species from New Zealand and Bergh's 'A. faustina' from Tasmania. The radular morphology of the animal photographed here from Tasmania is most similar to the original drawing of A. drusilla from New Zealand.
Note added 21 Nov. 2007: To indicate there was some doubt about the identity of Australian specimens they were previously labelled on the Forum as Aeolidiella cf. drusilla. However as discussed in a separate message [#21172] Miller (1971) described specimens of A. faustina and A. drusilla from New Zealand which clearly confirm that the Australian animal is A. drusilla despite earlier identifications as A. faustina.
Bergh, L.S.R. (1900) Ergebnisse einer Reise nach dem Pacific (Schauinsland 1896-1897). Die Opisthobranchier. 13(3), 207-246, Pls.19-21.

 Bergh, L.S.R (1904) Malacologische Untersuchungen. In: C.G. Semper, Reisen im Archipel der Philippinen, Wissenschaftliche Resultate. Band 9. Lief 1.: 1-56,Pls.1-4.

 Burn, R.F. (1962) Descriptions of Victorian nudibranchiate mollusca, with a comprehensive review of the Eolidacea. Memoirs of the National Museum of Victoria, 25: 95-128.

Miller, M. C. (2001) Aeolid nudibranchs (Gastropoda: Opisthobranchia) of the family Aeolidiidae from New Zealand waters. Journal of Natural History 35: 629-662.

Powell, A.W.B. (1979) New Zealand Mollusca. Marine Land and Freshwater Shells. Collins, Auckland. 500 pages.
Authorship details
Rudman, W.B., 2001 (February 4)
Aeolidiella drusilla
Bergh, 1900.
[In] Sea Slug Forum.
Australian Museum, Sydney. Available from http://www.seaslugforum.net/factsheet/aeoldrus